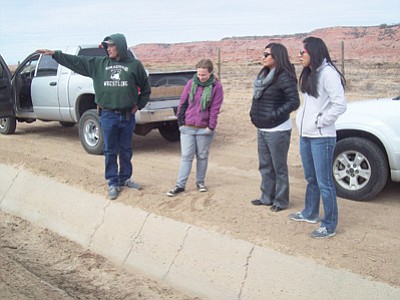 Originally Published: February 25, 2014 10:10 a.m.
TUBA CITY, Ariz. - The Johns Hopkins Center for American Indian Health (CAIH) Feast for the Future program is gearing up for its annual Community Farming project in Kerley Valley, located one mile south of Tuba City. A local resident generously offered the use of his land to encourage individuals and families to grow their own food. This is an example of the growing Food Sovereignty movement that encourages individuals to be aware of where their food comes from and to become more self-reliant.
This has been a traditional practice of Native Americans for centuries.However with the advent of Western foods much of the practice of food production has waned. However, organizations such as Johns Hopkins CAIH and others are promoting personal food production.
This is the third year of the Johns Hopkins Feast for the Future Program. Caitlyn Hatzell, FoodCorps Service Member, is serving with Johns Hopkins and is promoting the community farming revitalization project. FoodCorps is a national non-profit organization that teaches children about food, fosters school gardens, and helps children to grow up healthily. Hatzell, in partnership with Johns Hopkins, has become very active in the community promoting food sovereignty at the local schools through the Edible School Gardens program.
FoodCorps is recruiting for a service member position starting in September 2014 through July 2015. Benefits include a $17,500 living stipend, health insurance, and eligibility for a $5,645 educational award. The deadline to apply is March 30. More information can be found at www.foodcorps.org.
Much of the Johns Hopkins work under CAIH promotes the concept of Farm to School where food that is grown in the gardens is used in the diet of the school if possible. This is a growing trend in the Food Sovereignty movement that is practiced in different parts of the nation. More details on the national Farm to School initiative are available at www.farmtoschool.org.
The Johns Hopkins Feast for the Future Program has been fortunate to receive technical assistance and guidance from local farmers. With the assistance of local farmers, the project has begun clearing irrigation ditches, building up berms, which prevents water from escaping during irrigation, and weeding.
Frank Begay works on a neighboring field in Kerley Valley and said that in a previous year 30,000 ears of corn grew on two acres.
"Corn is used for traditional ceremonies such as Kinaalda and also steamed so it is continually utilized," Begay said.
Begay also said in the Phoenix area farmers use enormous amounts of fertilizers and pesticides to enable their crops to grow. Native Americans have traditionally planted using nothing but the seeds and hard work to enable crops to grow, which could be considered a form of organic farming.
Another benefit of farming is economic stability. During harvest season, vendors sell produce as well as cooked food such as blue corn mush, kneel down bread and other items made from local produce. This has been the sustenance of natives for centuries and is proven to be a healthier diet. The importance of traditional food and its health benefits were topics of discussion at a recent classroom discussion with Hatzell and her students.
The Johns Hopkins program hopes to promote the sustainability of its community farming project.
According to Jessica Delmar, Feast for the Future Project Coordinator, "we would like to give the job to the community to sustain the community farm."
Last year only three people signed up for plots in the community farm. Delmar and staff hope to see more involvement this year. Recently an irrigation cleaning took place but help is needed. The Johns Hopkins staff hope to get more people signed up in order make the program a success.
More information on participating in community farming, and about adopting-a-plot, is available at (928) 283-8221.