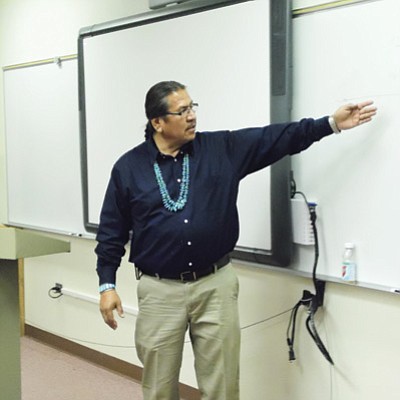 Originally Published: February 4, 2014 9:59 a.m.
TUBA CITY, Ariz. - Students, community members, staff and native language educators participated in a conference that provided instruction to staff and administrators on incorporating indigenous language and culture instruction into daily state standardized curriculum.
The Tuba City Unified School District (TCUSD) Cultural Symposium called Haigo Hane'e' took place Jan. 22. The all day event last took place in 2007.
Participants also discussed recent research that supports daily instruction to promote and advance indigenous language and culture for students.
Adair Klopfenstein, director of Native American Studies for the Tuba City District, kicked off the symposium.
James Peshlakai, a renowned Navajo traditional educator, sat with Klopfenstein on stage.
Peshlakai gave a morning blessing and also spoke of the importance of maintaining and encouraging traditional native cultural practices for everyone, young and old alike.
John Salabye, a traditional practitioner and a professor at Dine' College, sat on the other side of Peshlakai. Salabye spoke of harmony and how tribal language connects tribal people to their roots and being.
Lee Tsinigine, recently retired TCUSD principal and current board member, gave the morning's welcome address. Tsinigine is a long time Coppermine-area cattle and horse rancher who worked for TCUSD for 35 years as a an administrator. He recently served on the District Governing Board as president. Tsinigine has always been a strong supporter of tribal language and cultural teaching as a critical education foundation for students.
Tsinigine noted that tribal language and respect for tribal culture has seen better days, which in his opinion makes an annual conference like this all the more necessary.
"We must face the fact that we are losing our culture," Tsingine said. "Our traditional tribal values are upside down. Even if you look around in our community, you will notice that the biggest and nicest building in Tuba is a courthouse and new jail. Where are the millions of dollars to build a really nice, state-of- the-art community building where we all can work together and share our tribal heritage with our families?"
Tsinigine added that if tribal values were at the top of the educational priority chain, the Navajo language and culture would promote good character.
"Our tribal language and culture helps us be successful...strong daily cultural value and language skills are really good for our own children, grandchildren and students," Tsinigine said. "It teaches (students) how to be respectful, how to be disciplined and mostly, how to be kind to one another. If we all followed in these native values, especially kindness, we wouldn't have any discipline or reservation wide problems. Without these core native values, our students have trouble being successful. It doesn't matter if you are Navajo, Apache, Hopi or non-Native, without these values of respect and care it will be difficult to reach the top of the success ladder."
Tsinigine said language and culture should be taught at home. The school is only an additional support system.
"This solid foundation begins at home, but we as formal educators, we must support those home taught strong moral values," he said. "Arizona state teaching standards and its intent to have every single student learn the same thing might be fine for other districts, but we must remember that after graduation, not every student does the same thing or wants the same career."
Eighteen different presenters from various tribes participated in the conference sessions, which were broken up into two sessions in the morning and two in the afteroon.
Attendees could choose which sessions to attend. A traditional morning breakfast and a steak sandwich lunch were part of the event as well.