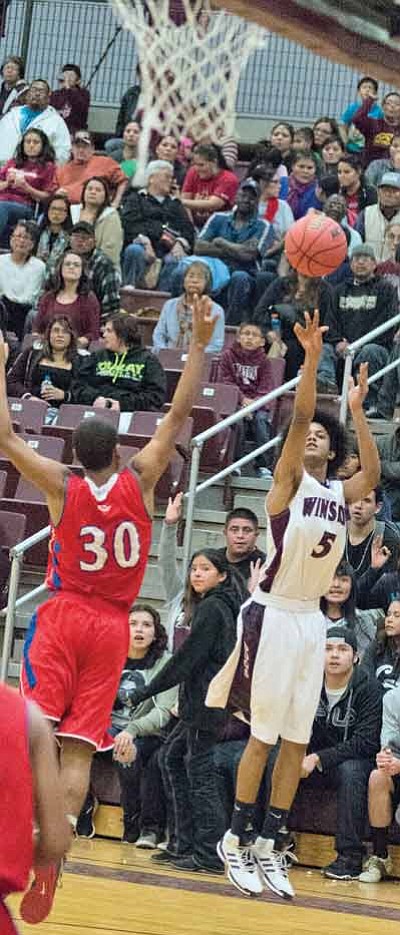 Originally Published: December 16, 2014 10:46 a.m.
WINSLOW, Ariz. - The Winslow Bulldogs won two games and lost two at the Pepsi Invitational Tournament in Flagstaff last week.
The results left the Bulldogs with a record of 4-3 going into Tuesday's game against Chinle on Tuesday in Winslow. The Bulldogs will have a break after that game until they go to Ganado for the Tournament of Champions Dec. 26-28.
On Dec. 11, the Bulldogs easily defeated the River Valley Dust Devils 74-28 but the next day they lost to the Copper Canyon Aztecs 64-48 and the Coconino Panthers 45-36. Winslow defeated the Northland Prep Spartans 67-59 Dec. 13 to even their record in tournament play.
In the win over River Valley the Bulldogs had a 16-3 first quarter lead and were in command 37-17 at the half and 62-23 after three quarters.
Tylon Yazzie was the only player in double figures for the Bulldogs with 12 points but Winslow had four players score nine points as Dalvin Benally, Trelonnie Sanders, Kordell McReeves and Akkeem Foster hit that total.
David Larrabee scored nine for River Valley, which had only seven players score to 11 for the Bulldogs.
Copper Canyon jumped to a 20-8 first quarter lead over the Bulldogs Dec. 12 and was up 42-19 at the half and 54-35 after three quarters on their way to a 64-48 victory.
Terrel Felix led Copper Canyon with 24 points and Treyvon McCray was in double figures with 15 points. Trelonnie Sanders paced Winslow with 12 points. Foster scored nine for the Bulldogs.
Also on Friday the Coconino Panthers defeated the Bulldogs 45-38 in a low scoring game. Coconino led 16-6 after the first quarter and were up 23-14 at the half and 30-22 after three quarters. The only quarter in which the Panthers outscored the Bulldogs was the opening period but Winslow was never able to catch up.
Jacob Anderson led Coconino with 14 points and Matthew Begay was in double figures for the Panthers with 10 points. Winslow did not have a player in double figures and was led by Sanders and Yazzie who each scored seven points.
In Saturday's 67-59 win over Northland Prep the Bulldogs led 20-14 after the first quarter and 33-18 at the intermission. The margin was 51-33 after three quarters.
The Spartans cut into the Winslow lead in the final period. Timber Lake of the Spartans led all scorers with 13 points. Delvin Begay and Savion Fuller led Winslow with 12 points each and Yazzie scored 11 for the Bulldogs.