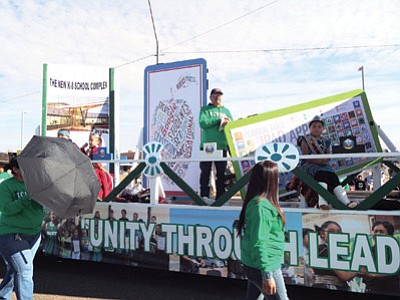 Originally Published: December 2, 2014 10:53 a.m.
TUBA CITY, Ariz. - Voters re-elected incumbent Tuba City Unified School District Governing Board members Mary Worker and Lee Tsinigine in the Nov. 4 election. Worker received 1,760 votes and Tsinigine received 1,661.
Roland Bennett received 1,237 votes and Priscilla Percy Kanaswood received 861 votes.
Worker and Tsinigine will serve on the board for a four-year term.
A bond for school construction projects also won Coconino and Tuba City-Moencopi voter approval. The bond will provide money for a state of the art, technology rich and Occupational Safety and Health Administration (OSHA) approved school building for kindergarten through eighth grade students.
School construction will start in spring of 2015 for the building, which will be located on Fir Street, between Eagles Nest Middle School and Tuba City Junior High.
Tuba City Superintendent Dr. Harold Begay made a statement after receiving word of construction bond approval.
"The need to upgrade our educational school facilities to meet today's rapidly expanding technological and sophisticated teaching and learning environment is critical to the success of our students today and their academic future," Begay said. "On behalf of myself, our school board and our administrators, we want to thank the voters for the successful bond election, for taking this unprecedented and extraordinary step in advancing our education for the future of our children. We embrace with humility this opportunity to continue to design and build a premier public education system and environment for our students in our Tuba City Unified School District. Our children and our grandchildren deserve no less. Nitsaago Axeehee', Kwakwhay."
More information about the construction or questions on school programs is available from the district at (928) 283-1000.