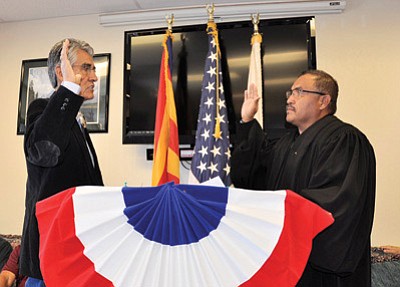 Originally Published: August 27, 2014 10:07 a.m.
FLAGSTAFF, Ariz. - Navajo Nation President Ben Shelly lost his bid for reelection in Tuesday's primary election, beaten out by former Navajo Nation President Joe Shirley, Jr. and Chris Deschene.
Shirley garnered 10,910 votes and Deschene came in at 9,734. Shelly was a distant seventh with 2,446 votes. Vote counts are unofficial until certified by the Navajo Nation Election Administration.
After the results were announced, Shelly said on his Facebook page that he appreciated all the voters who came out to support him.
"Although we did not make it past the primary election, we still have a lot of work ahead of us before January 2015," Shelly said. "Together Vice President Rex Lee Jim and I accomplished great things for the Navajo people and we will continue on this track before we leave office."
Shirley and Deschene will advance to the general election held on Nov. 4, 2014.
More like this story