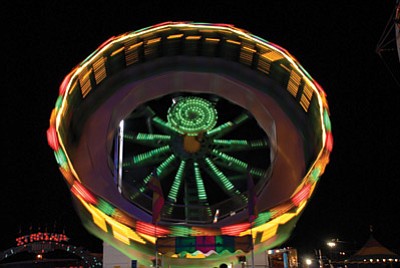 Originally Published: August 26, 2014 10:17 a.m.
WINDOW ROCK, Ariz. - The 68th annual Navajo Nation Fair takes place Sept. 1-7 in Window Rock and is the ideal place to experience Navajo culture. The seven-day event features an Indian rodeo, a pow wow, arts and craft competition, concerts featuring Diamond Rio and Travis Tritt, fireworks and much more.
The Navajo Nation Fair has been called the granddaddy of all tribal fairs and is known as the largest American Indian fair in North America. The theme for this year's event is "Promoting Family Values Through Culture and Tradition."
The week-long event showcases the legacy and hallmark of the Navajo people. According to the Navajo Nation Parks and Recreation Department special events office, visitors to the fair will experience a "visual symphony of elegant art, sizzling indigenous Navajo cuisine, traditional Navajo attire, perfectly poised beautiful Navajo queens, mesmerizing Navajo entertainers, soul-soothing music, a traditional Navajo song and dance and top caliber Indian rodeo competition."
According to historian Martin Link, the Navajo Nation Fair began as a small gathering and was the brainchild of a Bureau of Indian Affairs (BIA) employee. Link said the assistant to the BIA's general superintendent, John McPhee, came up with the idea.
"[It was] an opportunity for Navajos to gather together for a couple of days to socialize, compare each other's harvest, have something positive and enjoyable to do rather than just dealing with the Depression, stock reduction, unemployment and having their kids hauled off to boarding school," Link said.
McPhee and other BIA workers assembled a crude fairground southeast of Window Rock and invited everyone to the party. The fair continued under BIA supervision from 1937 to 1941.
In 1937-38, McPhee recruited a number of Navajos into the Civilian Conservation Corps (CCC) to create a fairground. The only building that still exists from that effort is the CCC Mess Hall, which has served as an exhibit hall, the Arts and Crafts Guild and the tribal museum.
Link said on Sept. 15, 1938, the Navajo Tribal Council passed a resolution that recognized the educational benefits to the tribe through exhibits and demonstrations to take place in connection with the fair.
"The Navajo Tribal Council believes this fair will encourage friendly competition between the members of the tribe to better their economic status and will stimulate a greater interest in livestock improvement and management," Link said. "Finally, the Council believes that this fair will assist in creating a better understanding of government and Navajo problems and that it will promote inter-tribal relations."
Fair organizers still try to incorporate echoes of early Navajo history and modern day events and activities in the fair
Wednesday, Sept. 3 features extreme bull riding and Diamond Rio in concert.
Thursday, Sept. 4 features the first performance of the Indian rodeo and the Truman Brothers and Due West.
Friday, Sept. 5 features the second performance of the Indian rodeo and Travis Tritt is on hand for a music filled evening.
The parade will take place on Saturday, Sept. 6 at 8 a.m.
Additional highlights include a carnival, a wild horse race, extreme bull riding, a free barbecue, and traditional song and dance.
More information about the fair is available at (928) 871-6478 or www.navajonationfair.com.
More like this story