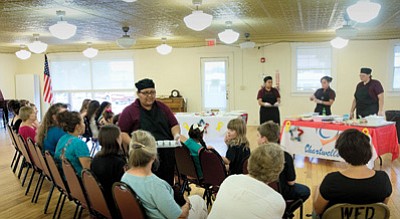 Originally Published: August 19, 2014 11:54 a.m.
WINSLOW, Ariz. - The Winslow Arts Council and the Winslow School District sponsored a culinary demonstration Aug. 14 at the Hubbell Building with the school's food service operators from Chartwells.
Chartwells, under the direction of Robynn Paul, prepared simple to make snacks with a patriotic theme appropriate for Labor Day festivities. Jalicia Quahoiyoima, Lorena Mora and Becky Brown assisted Paul with the presentation.
Council member April Neill invited a Girl Scout troop meeting next door to participate in snack building with Chartwells staff.
More like this story