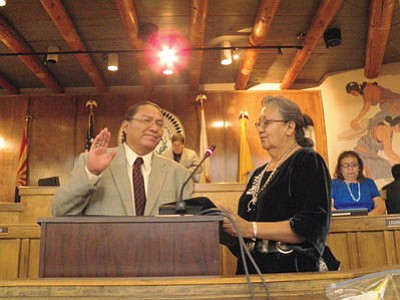 Originally Published: August 5, 2014 10:15 a.m.
WINDOW ROCK, Ariz. - The Navajo Nation Council confirmed the probationary appointment of Malcolm Begay as a district court judge of the Navajo Nation July 23, with a vote of 18 in favor and none opposed.
Associate Justice Eleanor Shirley Begay gave the oath of office immediately following the vote.
The Law and Order Committee recommended Begay for the probationary appointment to the President of the Navajo Nation. President Ben Shelly appointed Begay to serve as a probationary judge on May 16.
Begay is from Steamboat, Arizona. His clans are Tsinaajinii nil9, Kinyaa'1anii y1shch77n, Ts4n7j7kin7 dabicheii, dóó Ts4 Deeshgiizhnii dabin1l7 (his maternal clan is of the Black Streak Wood People, born for the Towering House people; Cliff Dwellers/Honey Combed Rock People are his maternal grandfathers, and Rock Gap clan are his paternal grandfathers).
Begay served as a staff attorney with the Navajo Nation Judicial Branch since November 2010. He has also worked with the Navajo Nation Office of the Prosecutor and was honorably discharged from the United States Marines Corps.
Begay graduated from Holbrook High School, earned a Bachelor of Science degree in business from Western International University and a Juris Doctor degree from the Northwestern School of Law and Lewis at Clark College.