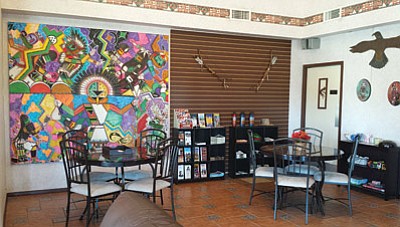 Originally Published: April 22, 2014 10:57 a.m.
FLAGSTAFF, Ariz. - Explore Hopi will play host to its first ever Consignment Art Gallery opening April 30 at the Days Inn Kokopelli in the Village of Oak Creek from 3:30 p.m. to 6:30 p.m.
The variety, talent, symbolism, stories and tradition of Hopi art will all be on display through the works of paintings and Kachina dolls made by artists Frank Honahnie, Jr., Garrett Honhanie and Dickson Silas. The event will give the public a chance to meet and greet the artists personally and to hear first hand the story and inspiration behind the creation of their artwork.
Kevin Lombardo, CEO of the Hopi Tribe Economic Development Corporation (HTEDC), said the gallery opening is part of the corporation's mission, which is to create economic development opportunities for the Hopi people. On the reservation, Explore Hopi works with tour guides, galleries and the artisans. The consignment program at the Kokopelli is another avenue to help the artists to have a venue to show and sell their work.
"Some of the work we are doing is to give exposure through different mediums and avenues to artisans," Lombardo said. "Part of our Explore Hopi program is also giving the opportunity for our Hopi artisans to sell their wares not only to the visitors that come to the reservation but also through our consignment program."
Finding a place to house the pieces was the next step. While they are displayed on the Explore Hopi website, Lombardo said Sedona was a natural fit because of the high quality of the art and because Sedona has a number of galleries and places to buy art and Native American cultural pieces.
"It is very, very beautiful work and some of the pieces have higher price points," Lombardo said. "Sedona is an area that attracts a clientele that appreciates art. We thought that since we have the facility there that caters to the people who are coming to Sedona for the beauty... and the art that is sold there... we can help bring exposure to those artists who have signed up for the consignment art program."
According to the Explore Hopi press release, one of the things the public will get a chance to experience is how deeply complex Hopi art is.
"The idea, experience and talent behind creating art are enhanced by a Hopi's way of life. The daily life of a Hopi has a direct connection in everything a Hopi does. The intertwined web of belief, tradition, language and culture is depicted and portrayed and the end result is the artwork that will be on display," the press release stated.
Lombardo said the location at Days Inn Kokopelli, which the corporationowns, lends itself to be a showcase for the artwork.