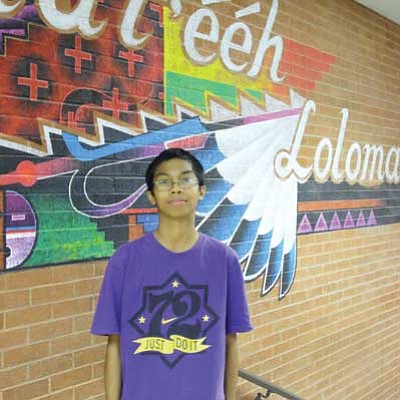 Originally Published: April 15, 2014 10:05 a.m.
TUBA CITY, Ariz. - Tuba City Junior High sent a student to the annual Arizona State Science Fair competition for the first time this year and came away with a second-place win in student scientist Edick Nuesca.
Nuesca, an eighth-grader and the son of Arlene and Edwin Nuesca, has lived in Tuba City for the past three years. Nuesca said he has always had an interest in science and with the help of his science teachers Allan Dino and Arnel Dela Cruz and his parents he came up with a competitive and comprehensive science project.
Nuesca called his project "Don't Get Burned." He tested varied types of mass-manufactured bottled sunscreen to see which would provide the best protection from harmful UV sunrays.
Using three separate test trials in four controlled runs, Nuesca tested plain Vaseline with no SPF protection, Bullfrog Sunscreen with an SPF of 30 and Equate Sunscreen with an SPF of 50. Equate brand had the best protection based on how dark the UV test beads got inside a Ziploc bag over a 20-minute period.
The three-day state science fair took place in the Phoenix Convention Center with entries from public schools across the state and more than 1,200 student competitors.
Nuesca placed first in the Tuba City District fair in the science division, then went on to place at the larger 2014 Northeast Regional Science Fair in Lakeside, Ariz. He then took second at the Navajo Nation Science Fair in Gallup, N.M. in the Physical Science category.
"Edick is an amazing student, he's so involved with physics, EPGY (Education Program for Gifted Youth) and his eighth grade Honors Science class," Tuba City science teacher Dino said. "We were really proud that he was going to represent our school district. His enthusiasm, optimism, creativeness and his willingness to keep looking for ways to improve his work, he was so open to suggestions and problem solving processes. He's a wonderful student and will go far with his positive attitude. It was exciting to be a teacher-chaperone at this state event to see what other larger schools in Arizona are doing and how competitive their students are along with our own student competitors from Tuba City."
Nuesca took home a medal and certificate for his state win and said he is looking forward to continuing his interest in science and math and hopes to set a career path that will involve these two disciplines.