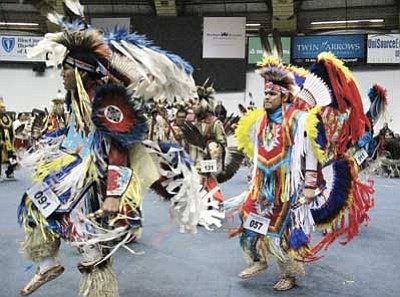 Originally Published: April 15, 2014 9:56 a.m.
FLAGSTAFF, Ariz. - Native Americans United Club of Northern Arizona University played host to the 2014 Powwow at the Walkup Skydome on the campus of Northern Arizona University April 12-13. The powwow featured six categories of dancing contests and a gathering of tribes from across the U.S. and as far away as Canada.
The powwow started with Gourd Dancing on Saturday morning, followed by a Grand Entry at 1 p.m. and 7 p.m. Sunday's Gourd Dancing began at 10:30 followed by the Grand Entry at noon.
"This is our second time hosting the powwow here at NAU," said Alayandra Aday, vice president of the Native American United Club. "It had been about 10 years since we had had a powwow here since last year's powwow, so we were really excited. This year has been an even better turnout than last year, we have more space and there are more dancers."
Dancers came from as far as Canada to participate in the powwow. Dennis Francis, a Saulteaux-Cree Native from British Columbia, Canada participated in the Traditional Dance.
"I have been going to different powwows across the U.S. since before March," Francis said. "I'm going to Arizona State University after this and before that, I was traveling all over, from here to Canada."
Dancers and spectators both enjoyed being able to gather and socialize. Blythe Largo of Maricopa, Ariz. and Danielle Bear of Kingman, Ariz. have become friends from traveling to different powwows. Largo has danced for three years, while Bear said she has been dancing since she could walk. Saturday night they performed the Jingle Dance and the Fancy Shawl Dance.
"We became friends from seeing each other at powwows," said Largo. "We usually go to different powwows almost every weekend. That's where we get to visit."
Whether dancers and visitors came from far away or locally, they were able to gather for a time of visiting and watching or participating in the dancing. Arts and crafts vendors were open for people to buy their wares, while the Native American United Club had snacks, drinks, and Indian Tacos for sale.