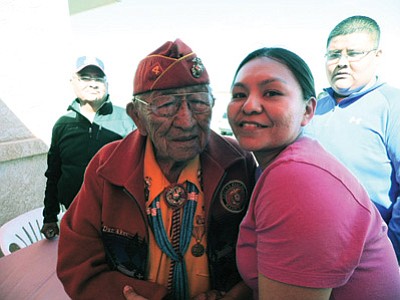 Originally Published: April 8, 2014 9:52 a.m.
TUBA CITY, Ariz. - Staff Sgt. Joy Hollonquest, a Navajo tribal member who has served in the United States Air Force for the past 13 years, returned April 6 to her hometown of Tuba City escorted by 23 bikers with the Navajo Hopi Honor Riders organization.
Hollonquest's family caravan followed the bike escort and stopped traffic on Main Street in Tuba City with local community members waving at the line of bikes and cars, and shouting happy greetings of "Welcome Home Joy!" as the caravan made its way to Hollonquest's mother's home in north Tuba.
The Navajo Hopi Honor Riders escorted Holloquest all the way from Gallup, N.M., passing through Window Rock and then Ganado before crossing into Keams Canyon and the Hopi Reservation. The caravan rode through First Mesa, Second Mesa, Third Mesa, Dinnebito, Howell Mesa, Coal Mine and finally into Tuba City.
Riders from the Navajo Hopi Honor Riders group came from Fruitland, Cameron, Page, Dilcon, Gallup, Tuba City, Moencopi, Coalmine, Window Rock and Flagstaff to escort Hollonquest home.
Hollonquest, formerly Joy Canyon-Billy, is the daughter of Denise Canyon-Billy and the late Tommy Billy Sr. and is a Warrior graduate of Tuba City High School, class of 1997.
Hollonquest served in the Air Force for 13 years after leaving Tuba City and has been to Portugal, Spain, Turkey, Tucson, Ariz., Clovis, N.M., and Oklahoma.
She ended up stationed in Afghanistan.
"I saw things that I would have hoped I would never see during my service," Hollonquest said.
When asked why she decided to enlist in the military, Hollonquest said, "my grandfather, Jefferson Canyon, was in the service and he inspired me to serve my country. My grandfather was in the Army in World War II and I felt honored to follow his path of duty to our country."
The last time Holloquest was home was more than a year ago. Her three small children would not let go of her as she made her way around the reception hosted by her mother Denise Canyon-Billy. It was Hollonquest's grandmother who really wanted her to come back home, as she was worried about Hollonquest's three children being without their mom, since their father, Clifton Hollonquest is currently on active duty.
Hollonquest said she met her husband Clifton when they were both new recruits.
"It's great to be home. I cannot tell you how happy I was to see our Four Sacred Mountains as I passed along the road with the Honor Riders escorting me," Hollonquest said. "I took special notice of the hogans and all the houses and the people who were outside working as we drove from Gallup, through the Hopi reservation and finally to Tuba."
Hollonquest said there are similarities between her home on the Rez and Afghanistan.
"There are mountains there that are like ours here, and there is dirt of the same color that reminded me of being at a squaw dance," she said. "I feel honored that I was able to serve our country and our people all these years, but I'm so happy to be home. After I rest and stay here a little while with my mother, my brothers and my relatives in Tuba, we will be moving to Kansas where I will be stationed and I'm just going to try and enjoy my family, my children. I want to thank the Honor Riders and all my relatives for being here with me today, to welcome me back, I was so overwhelmed when I was told that I would have this special escort. I am deeply honored."
Her brother Tommy Billy Jr. said to the reception crowd that he wanted to acknowledge and thank his sister.
"I am grateful for your service to our country and to this community. We really missed you," he said. "But now you're home, you're not going to be alone anymore. Your kids are here, we are here, and we're so grateful you are home safe. Thank you Joy, even though our dad is gone, I know he would be so proud of you."
Guests enjoyed a barbecue reception with plenty of side dishes including four kinds of stew along with a specially made cake that had the Air Force logo on it.
A special guest, one of the few remaining Navajo Code Talkers, attended Hollonquests' reception. Dan Akee greeted Hollonquest and gave her a big hug to welcome her back.
"I'm proud of you my young daughter, you did good. Now its time to rest and take good care of your own family," Akee said.
Larry Begay, one of the founders of the Navajo Hopi Honor Riders said his group was deeply honored to escort Hollonquest back safely to her family in Tuba City.
"We want to acknowledge her sacrifice and commitment and our escort is our way to thank her for her military service to our tribal people," Begay said.