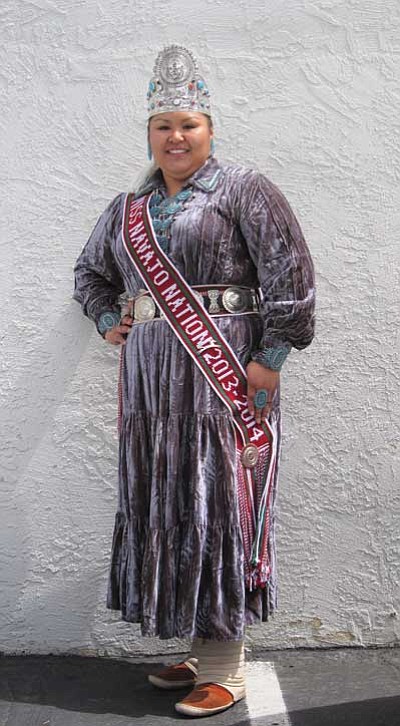 Originally Published: April 1, 2014 10:16 a.m.
FLAGSTAFF, Ariz. -Natasha Hardy, winner of the Miss Navajo Nation title in September 2013, visited local schools last week in Flagstaff to encourage students to continue learning and speaking Navajo.
Hardy, invited by Pathways, an afterschool program for Native American students that meets at the Puente De Hozho Elementary School, met with students March 26. Hardy, an active spokesperson for the revitalization of the Navajo language, spoke at Puente De Hozho Elementary School and at Flagstaff High School.
"I speak to students to encourage them to learn and to keep doing what they are doing and to be proud of who they are and where they came from," Hardy said. "I remind them that our language was used in WWII and helped win a war."
As Miss Navajo, Hardy is not only a symbol of grace and beauty to the Navajo nation, but she is also a role model for all Navajo youth.
Hardy is from Hunter's Point, Ariz. After winning the title of Miss Navajo last year, Hardy decided to devote not just the year that she will be Miss Navajo, but also her future career to restoring the Navajo language. After graduating from Window Rock High School in 2007, Hardy pursued a higher education at the University of New Mexico-Gallup studying to become a dental hygienist. In 2010, she decided that she wanted to change her major and began her bachelor's degree in elementary education in the Navajo language at the Dine' College.
While she is Miss Navajo, Hardy decided to put her studies on hold but is planning on going back to complete her degree this fall.
"All the responsibilities that come with being Miss Navajo make it a full time job," said Hardy.
Those responsibilities include being a role model and mentor for the youth of the Navajo Nation. One of Hardy's goals this year is to visit communities on and around the Navajo Nation and to encourage them to continue to speak Navajo.
"It is never too late to learn. It is important to our identity," Hardy said. "Our language is the heart and soul of our culture."
From larger towns to more rural communities, Hardy is discovering that the population and location of these communities can determine how much the Navajo language is spoken.
"The majority of them don't know the language, some communities know, from their parents. It is more of the rural towns that speak Navajo," said Hardy.
Dr. Evangeline Parsons Yazzie, Navajo professor at Northern Arizona University (NAU) and an authority on Navajo language studies, said fewer and fewer people are speaking Navajo.
"Navajo is an endangered language now. An endangered language means it is no longer spoken by the children," Yazzie said. "There have been studies done among kindergarten and pre-K children, where less and less are speaking Navajo."
Yazzie, who has spent 24 years teaching the Navajo language at NAU, said it is the young people who will determine whether Navajo will continue to be a spoken language.
"When you want to revive a language, it is going to be the people who are of child bearing age who make this decision. It is the next generation and the parents that decide, I will teach my child the Navajo language," Yazzie said.
As an activist for the Navajo language and an ambassador for the tribe, Hardy said she wants to reach out to the youth and encourage them.
"Even if it's one individual that I've touched and helped, it is part of my dream and goal," Hardy said. "I grew up in a very traditional family, all of us spoke Navajo. It was expected of us, it was something we saw and used every day."
After she turns over her crown in September, Hardy plans to complete her bachelor's and then follow through with her dream of teaching Navajo.
"I am hoping to be able to go back to school this fall and finish my degree. Eventually, I would like to be part of an immersion program and continue to help students learn Navajo."
Immersion programs take students from kindergarten through fifth grade and "immerse" them in the Navajo language. Most of the instructions, especially in the lower grades, are all given in Navajo. Later students are instructed in both Navajo and English, so they will be comfortable with both languages.