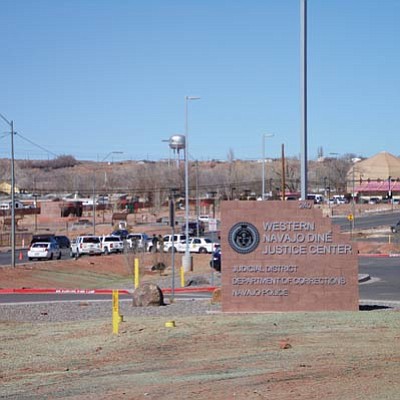 Originally Published: September 11, 2013 10:13 a.m.
The Tuba City Judicial District is playing host to a federal trial to give local students and the general public the opportunity to witness a federal trial first-hand and to learn about the justice system.
The first day of the case will take place in Flagstaff for jury selection and for a possible opening statement. The federal trial of the United States District Court for the District of Arizona takes place Sept. 11-12 at the Tuba City Justice Center with U.S. District Jude G. Murray Snow presiding.
The case is United States versus Edsel A. Badoni. Badoni has been charged with assault with a dangerous weapon, assault resulting in serious bodily injury and discharging a firearm during a crime of violence.
In his order authorizing the trial, Snow said the court concluded that a trial of the Major Crimes Act is necessary on the Reservation to provide Reservation residents with an understanding of how the U.S. Justice System operates.
The court order explains that an enhanced understanding is necessary to promote the improvement of the criminal justice system on the Reservation.
The order also explained that the court hopes to enhance the ability of tribal members to serve as jurors in light of statistics that demonstrate that Native Americans are not represented on juries in the District Court in numbers reflected by the percentage who live on reservation in the area that the court represents. The court order said tribal members often explain that they are not able to be represented on juries because of the expense of getting to the District Court in Prescott.Tribal members are also reluctant to serve as jurors in trials of fellow tribal members. In the order for the federal trial, Snow said he hopes to overcome tribal members' unwillingness to serve on juries.
Finally, Snow said he wants to educate both tribal members and non-tribal members about the increased jurisdiction made available through the Tribal Law and Order Act of the constitutional minimums to which all American citizens are entitled, which includes Native Americans, in a criminal trial.
Seating will be limited.
More information about the trial is available from the Tuba City Judicial District at (928) 283-3140.