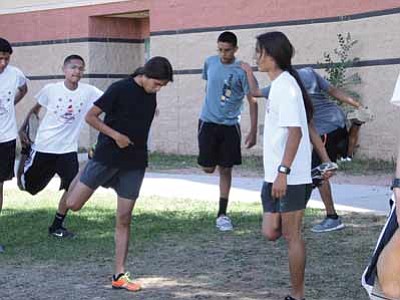 Originally Published: October 15, 2013 10:27 a.m.
TEMPE, Ariz. - The Tuba City High School Warriors boys cross country team took second place at the 41st annual Doug Conley Invitational at Rolling Hills Golf Course in Tempe, Ariz. last week.
Tuba City's Anthony Masayesva placed third with a time of 16:07.94 over the 5,000 meter course. The time meets the national silver standard. His brother Brian Masayesva came in eighth. Jaiden Melendrez, Eddie Loughran and Albert Fuller also placed.
Tuba City head coach Arvis Myron said the Doug Conley meet is one of three meets his team focuses on.
"Our strengths this year as a team was formulated by following how teams before us set the standard," Myron said. "Some of our boys didn't run as expected, but their teammates stepped into place and improved our overall team score. Leading with Anthony Masayesva, the boys wanted to get to the front and not be caught in the pack as it takes a lot of energy to pass runners as the race progresses. We got out and settled into our pace and kept working together to get to the finish line."
Myron said this tear's team lacks some speed endurance to carry them to the finish line when it counts the most.
"But this will be one of the things we will work on in our training as we get ready for the final state meet," Myron said.
The Masayesva brothers have been consistent runners for Tuba City.
"They continue to improve with every single meet and their workouts are improving Anthony greatly," Myron said. "I predict that Anthony will be one of the top three runners in this year's overall state meet. With his last performance at Conley and at Twilight, I won't be surprised one bit if Anthony becomes an individual state champion."
Myron added that Melendrez, Loughran and Fuller have shown signs of improvement and that his team's goal is to train in a systematic method so that they will run their best at the upcoming state meet.
Tuba City's dry, high elevation climate with sandy running courses helps create a cross country team with stronger resilience and endurance.
The team completes sprint workouts up an arduous, desert hill known locally as the Moencopi Sand Hill, which is located in front of Tuba City High School. The hill crosses Highway 264 into the Hopi reservation on a dry sandy gravel incline that ends at the top of the local Hopi villages' water tank.
"This Moencopi Sand Hill is one of our Tuba City High cross country program signature workouts," Myron said. "I like to hear from our returning running team members who tell all the newcomers 'it's a workout for champions,'" he said with a laugh.
The sand hill sprint is a tough workout so the coaches give adequate recovery time between workout sets.
Tuba City's elevation is around 4,800 feet. The elevation gives Tuba City an advantage when they go to Phoenix to run at the state meet. Phoenix is around 1,000 feet.
"The change in elevation can improve our runners' time by a good 25-45 seconds or above," Myron said "The legacy of our Tuba City High cross country runner teamwork as state champions before us, gives us a really effective blueprint to follow and we always want to work towards a common team vision when it gets tough for us. But if there has ever been a cross country team that can carry on the legacy of another state championship banner for Tuba City High School, it is this year's team that can meet that challenge."