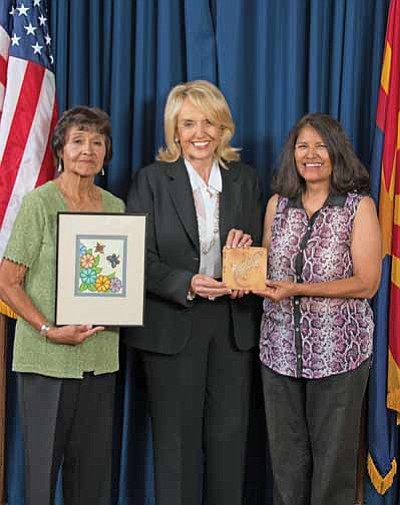 Originally Published: October 15, 2013 10:40 a.m.
PHOENIX - Arizona Governor Jan Brewer recently recognized the Moenkopi Developers Corporation (MDC) at the state capital for its efforts in building economic opportunity for Hopi.
MDC is a non profit corporation created by the Upper Village of Moenkopi to create jobs for all Hopi and spur on economic development. The group developed Moenkopi Legacy Inn & Suites, the first hotel built on Hopi land in more than 50 years. The hotel promotes activities that connect visitors with cultural activities in all of Hopi through the website www.ExperienceHopi.com
With money from the Arizona Commerce Authority, MDC created the Hopi Arts Trail, a cooperative marketing effort for galleries, artists, and guides in Hopi villages across the Hopi reservation. The Arts Trail won the Governor's Award for Cooperative Marketing Best Practices at the annual Governor's Conference for Tourism, which took place in Tucson in August. Hopi Arts Trail artists Frances Quotskuyva and Darlene James as well as Sherry Henry, director of the Office of Tourism, joined the Moenkopi Board at the capital for special recognition by Brewer. Quotskuyya, a skilled painter, and James, a potter, presented the governor with original works of art and an invitation to visit the Hopi Arts Trail to meet artists and tour galleries in the Hopi villages.
The Arts Trail allows people to visit the mesas in a respectful manner and to connect with artists in their galleries and home workshops. Visitors are welcome to drive across the Hopi reservation using the Arts Trail Map or to schedule a tour with a guide who is certified by the Hopi Tribe to visit the galleries and meet artists personally. A total of eight galleries and about 20 artists currently participate in the Hopi Arts Trail program.
MDC President Wilfred Moore said the economic development the group has achieved on the Hopi reservation is the fulfillment of the vision of village elders and is the result of many years of hard work.
"It is a fact that this project never would have been built in a mainstream community simply because there is very little financial return and every dollar is reinvested in our community," he said. "The return to our village and to Hopi is the creation of jobs. Without grant funding from a number of sources and the dedicated efforts of village members, the facilities and community infrastructure that have been developed never would have been achieved. We have created over 125 jobs and it is our goal to continue development to create more jobs and much needed quality housing for our people because we know that the creation of jobs and housing on Hopi land translates directly into preservation of culture, language, religion and family."