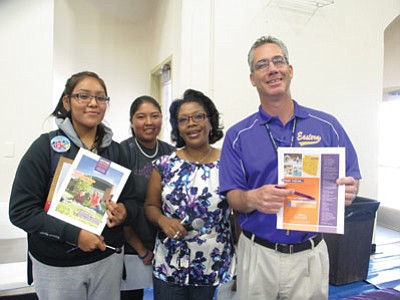 Originally Published: October 8, 2013 10 a.m.
Twelve colleges, the Hopi Tribal Grants and Scholarship Program and the Hopi Elections Office brought information to Hopi High students during a fall college visit Oct. 4 in the gym at the school.
The colleges included Arizona State University, University of Arizona, Northern Arizona University, Arizona State University Del Webb School of Construction, Brookline College, Arizona College, Bryman College, Northland Pioneer College, Carrington College, Coconino Community College, Eastern Arizona college, Empire Beauty School, Everest College, Grand Canyon University and New Mexico Highlands University.
Allen Honyouti, a senior, said the college fair was fun and interesting. He is considering attending Utah Valley University to major in education, probably secondary education.
Honyouti said there were a lot of vocational schools at the fair telling students about their programs. He said the college fair showed him that he should get applications in to the schools well in advance. He said the college fair was productive and informative.
"I hope (Hopi High School) has the college fair again next year, but they should add more schools," he said.
Keannah Speen, a junior, said the college fair was fun and gave her a lot of information about what she should be doing during her high school years.
"I learned it helps to be prepared and to challenge myself more," she said
Speen said it's important not to take the junior or senior years lightly because those classes will help students prepare for college. She is considering majoring in education or pre-med. If Speen goes into the medical field, she will head for the University of Arizona; if she decides on preparing to become a teacher she will go to Arizona State University.