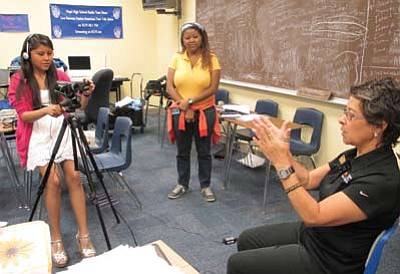 Originally Published: October 1, 2013 11 a.m.
KEAMS CANYON, Ariz. - Arizona State University's (ASU) Walter Cronkite School of Journalism and Mass Communications would like to have Native Americans attend its school so they would have a voice about their community.
That was the message from Anita Luera, outreach director for ASU Cronkite, when she spoke to Hopi High media students Sept. 24 at Hopi High.
Luera brought along Brazilian journalist Ivana Braga, who also has a Fellowship at ASU Cronkite, to talk about Cronkite's international program as well as to teach Hopi High students about Brazil.
The advanced Hopi High radio students interviewed Luera and Braga on KUYI Hopi radio.
Luera, a graduate of ASU, has been a journalist for 35 years, including 27 years in broadcast news.
"I hope the students learn that they should attend our program," she said about the visit to Hopi High.
Luera said she has seen tremendous changes in journalism because of digital photography and technology that make it easier to get news instantaneously. She told the students to not only use print and broadcast, but social media as well.
"Students attending ASU Cronkite have a chance to learn about the world," she said. "The way we measure the success of our program is by seeing how many of our students go out into the real world, how they use the tools we taught them and how they have a desire to work in journalism."
Luera said she loves to work with people and travel; her current job encourages both. Her challenge to the Hopi High students is if they want to see the world they can reach that desire through journalism.
Luera was inspired to become a journalist because she's always curious. When she was a youth, her brother delivered newspapers so they got the newspapers for free. They would fight over who would get what section. Her brothers would often start with the sports section, so she would read the news section.
Braga, who graduated in 2002, has covered stories about women's rights and human rights in Brazil. She carefully researches stories before writing about them. She said it is important to get names, facts and dates right.
"Brazil has the seventh largest economy in the world, but there are still a lot of people in low socioeconomics," she said. "We need to close the gap."
Braga said in Brazil the government doesn't censor the newspapers, but the corporations that own the media censor the freedom of speech.
Braga said she wanted to be a journalist because she came from a Black community and the media did not talk about them in a positive way, so she wanted to have a voice for more positive stories about her community.
"The journalism in America is more diverse where you get worldwide news. In Brazil, most of the news is about ourselves," she said.
Braga is studying at ASU Cronkite through a Hubert H. Humphrey Fellowship. The Fellowship is a 10-month award to study and gain professional training. Braga graduated in 2004 with a degree in communication from the State University of Maranhao in Brazil.