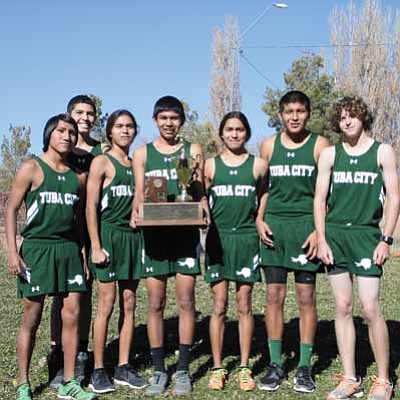 Originally Published: November 26, 2013 3:49 p.m.
Rio Rico High School had some good runners, but Tuba City High School had a better team who worked together to win the Division III State Cross Country Championship at Cave Creek Golf Course in Phoenix last weekend.
The Tuba City Warriors finished with 48 points, easily winning the team championship over Rio Rico, who finished with 71 points. The rest of the top ten finishing teams were Page High School in third place, Chinle High School in fourth, Mingus Union High School in fifth, Catalina High School in sixth, Window Rock High School in seventh, Holbrook High School in eighth, Winslow High School in ninth and Moon Valley High School in tenth.
Rio Rico's top runners finished in first and second place at the meet. However, Tuba City's top five runners finished in the top 18 to overcome the tough competition from Rio Rico.
Twins Brian and Anthony Masayesva came in fourth (16:02) and sixth (16:20) respectively to help pace their Warrior team. The rest of the top five included Albert Fuller who came in seventh (16:20), Eddie Loughran who came in 13th (16:36) and Jaiden Melendrez who came in 18th (16:47).
The rest of Tuba City's cross country state championship team includes Kyle Sumatzkuku and Vaugh Jackson. Arvis Myron is the team's head coach and Thomas Hatathli assists with the coaching.
Myron said winning the championship took hard work, talent and dedication from all seven team members.
"Looking at the pre-race predictions, the coaches felt that in order for any of the top three teams in Division III to prevail as champions, it was going to take all seven of our team members to finish before the other team's fifth runner," Myron said. "Great teams like Page, Tuba City and Rio Rico know all too well that even if a team has two great runners, it will still fall on the responsibility of all seven runners to contribute to the winning performance of the entire team. It was the right time and perfect combination of runners from Tuba City High to continue the winning state legacy for Tuba City and the two villages of Moencopi."
Loughran, a senior who been on the cross country team at Tuba City for the past four years, said he started running in kindergarten in Tuba City, where he grew up.
"It's been a fun atmosphere with this winning team, we were all pretty happy and worked together really well," Loughran said. "When we got to the end of the state race, I got pretty excited and was thinking, 'Whoa, this is pretty good.' Another serious runner who was also from Tuba City High is Billy Orman, who is now at Harvard in Massachusetts. He is a real inspiration to all runners in Tuba City."
Fuller, a sophomore on the Warrior winning team, has been running for 10 years. He always wanted to try a serious sport and now wants to stick with running. Fuller has been running for head cross country coach Myron for two years.
"It was so great, it felt good to win this championship," Fuller said. "We are one of the smallest teams in the state that competed but we were all close and we all like being on our team together. I knew when we hit the 1 1/2 mile point that we had to stay out front. Our coaches told us that is one of the secrets of winning. I do plan to run again next year for Tuba High."
Brian Masayesva, a senior at Tuba City, has run cross country for five years. He said he loves running and joined the cross country team "just for fun."
"But running gives me time to think about more serious things, like what I'm going to study at college, what way I want to lead my life and how I will get that all done," Masayesva said.
Masayesva said he was confident at the beginning of the state meet, but nerves started kicking in during the race.
"But once we got nearer to the end, I could see we had a good shot and that gave me the confidence to just go all the way," he said. "I originally thought... 'Oh no, maybe they didn't count the final score the right way, and maybe we didn't really win.'"
Masayesva added that the Warriors' recent success at the Doug Conley meet in Tempe inspired him.
"We had new uniforms and Coach Myron said, 'Lets' take these singlets out for a walk.' He meant it in a humorous way, but also we took it very seriously," Masayesva said. "We were wearing Tuba City High Warrior Green and there is a strong cross country running tradition in this school, so we wanted to take our run seriously enough to win it all."