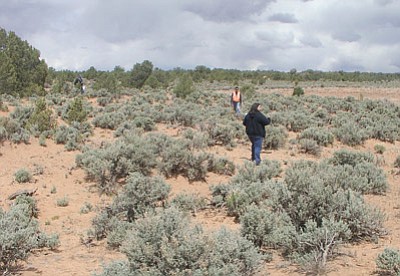 Originally Published: May 14, 2013 10:21 a.m.
FLAGSTAFF, Ariz. - A new agreement between the Navajo Nation Archaeology Department (NNAD-NAU) and Northern Arizona University (NAU) will help train Navajos and Native Americans to become leaders in the field of archaeology.
NNAD-NAU Program Manager, Ora Marek-Martinez, says that the need for the program is obvious.
"Overall, the number of Native American archaeologists is really, really low," Marek-Martinez said. "While there are a lot of tribal members who are technicians or lower type of position archaeologists, there are very few who are the actual principal investigators or who have a management position."
The program started at NAU around 1988 to recruit as many Navajo and Native American students in Anthropology and Archaeology as possible. The program provides students with on the job training in the theory and the methods that they learn in school. Sixty-three students have gone through the program but only two have earned PhDs, (Marek-Martinez is one of them, the other is at NAU).
On the Navajo Nation before any ground disturbing activity takes place, the Tribal Historic Preservation office (HPD) must grant archeological clearance.
Students learn the entire archaeology process including receiving a request for a home site, calling clients, how to meet clients in the field, how to schedule appointments and how to do background research. The students check to make sure there are no archaeological sites within the homesite and complete literature review, which is the background check at the HPD offices. Instructors take the students out to the field where they learn to do an archaeological survey and complete ethnographic interviews with the community. Marek-Martinez said that students who are fluent in Navajo conduct most of the interviews and are able to do most of the process in Navajo.
One of the students, Lukai Nez, said that field work can make or break your interest in archaeology.
"I took part in a waterline extension that was said to be six miles and I figured it was six miles, three to get there and three to get back. It was six miles out and six miles back, it was twelve miles," Nez said. "Archaeology is challenging and focuses on detail and the work has to be done in a limited time frame but it is worth it. It can be strenuous but that is part of archaeology."
Marek-Martinez said one of the most important aspects of the program is its ability to empower young Navajo and Native Americans and to make sure a Navajo perspective is reflected in the fields of anthropology and archaeology.
"We're trying to allow Navajo communities a chance to tell their history," Marek-Martinez said. "Now that we have archaeologists who are trained in theory and method but who also know the culture, it is one way we can allow our communities to tell their story and reclaim their history. That is one of the main goals that we are trying to accomplish."
Some aspects of archaeology, like road construction, can be a very destructive process and for those projects, there is no choice but to excavate. Some of the tribal communities have a hard time with that and would prefer if everything was just left alone.
"We are really trying to reconcile and work with the communities. We go into the communities and let them know what we have to do," Marek-Martinez said. "Before there was a lot of resistance and we would get chided in Navajo and they would say all kinds of stuff to us and make us feel really bad but we always thought it is better for us to do this than somebody else and that is what we explain to them. We're here with a good heart and we're trying to care of our history and our ancestors and if there are any concerns that you have with this area, let us know and we can put that in our report and we can try to protect these areas."
Another student in the program, Santana Yazzie, said he would like people to understand that archaeologists are not the bad guys and that they are really trying to help.
"We want to educate the youth right now. We are not here to dismantle the archaeological sites but to protect our cultural heritage," Yazzie said.
Marek-Martinez said the NAU community is very supportive of the program and a lot of professors have either worked with NNAD in the past or would like to.
"We are trying to find projects where we can incorporate the anthropology and applied indigeneous studies departments, we're trying to get in there and find some really good collaborative projects that we can work on," Marek-Martinez said.
NNAD serves the entire Navajo Nation, with three offices - one is in Shiprock, which handles the northern and eastern reservation, one in Window Rock, which serves the central part of the reservation and the Flagstaff-NAU office, which serves the western half of the reservation.
"There are numerous positions out there throughout the Navajo Nation for archaeologists and for cultural specialist positions which are geared toward doing the more traditional cultural property interviews. They require fluency in Navajo and they would have a different understanding than we would have," Marek-Martinez said. "The program is important because we are trying to provide different opportunities for our students to learn archaeology."