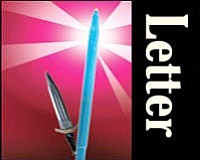 Originally Published: May 7, 2013 12:48 p.m.
To the editor:
The controversy over the fate of Navajo Generating Station (NGS) overlooks the fact that the Hopi Tribe is a key player, yet the Hopi Tribe is treated like a footnote to the all-mighty Navajo Nation.
If the Hopi Tribe rejects the Peabody Coal lease when it expires in 2025, NGS cannot survive. The Navajo Nation will not get $13 billion if the lease is not extended to 2044. Five hundrer Navajo workers will lose their jobs. There are presently no Hopis employed at NGS, and less than a dozen at the mine. Those who are working will be retiring.
The Hopi Tribe receives about 6.5 cents from every dollar that Peabody gets.
If the mine is to continue to 2044, the coal reserves in Black Mesa Mine, which is exclusively on Hopi Partitioned Land, will be essential to the operation of the mine. There is not going to be enough coal left in Kayenta Mine West (1934 Navajo Reservation) and Kayenta Mine South (former JUA) to supply coal to NGS.
As more and more people become aware of the scope and magnitude of the mining damage to their ancestral homeland, it is doubtful the Hopi village traditional leaders and religious guardians of the land will authorize the Hopi Tribal Council to approve the extension. The Hopi Constitution runs the Hopi Tribal government. The Constitution reserves all rights to the land and water to the 12 independent villages. The Hopi Tribal Council exercises only those powers the Hopi people delegate.
The chairman and vice-chairman finally realized this when 10 out of 12 villages rejected Senator Jon Kyl's Little Colorado River Settlement Act.
The Hopi Tribe (people) also have priority rights to Colorado River because they settled here long before any other tribe appeared. Their aboriginal rights are backed up by the Treaty of Guadalupe Hidalgo.
The Hopi Tribe has not put in a claim, like the Navajo Tribe, to the river, but when the time comes to settle water rights in state court, Hopi will file its claim.
The Hopi Tribe is like a proverbial mouse, just waiting to roar!
Vernon Masayesva
Kykotsmovi, Ariz.