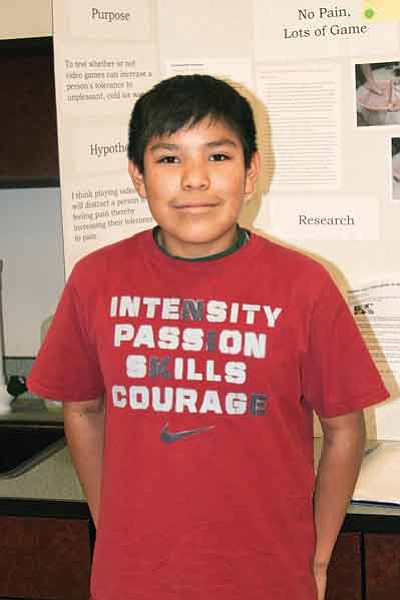 Originally Published: March 26, 2013 11:05 a.m.
Tuba City Junior High's Science Fair is like no other Reservation school science fair.
Tuba City High School Science honor students, many of whom were science fair winners themselves, judged the contest. They gave appropriate, hard science critique. Science teacher Effie Hyden coached the students.
The junior high science teacher in charge, Delores Payne, is a long time science aficionado who demanded that her junior high students complete advanced research on the internet using their technology skills with thorough background fact-checking.
According to Payne, students are required to use the scientific inquiry process.
"Everything we teach at Tuba City Junior High science is couched in the language of scientific inquiry," Payne said. "We had an overwhelming 148 entries this year and I am so proud of our students who work so hard at finding theories that could have and will make an impact on their everyday lives."
The junior high students who enter the contest show a focused interest in science and math skills. They are looking to find exceptional projects that will surpass prior subject entries and also give some thought provoking ideas to their parents and administrators during the science fair.
The Tuba City Junior High's 2013 Science Fair Grand Prize Winner is seventh grade, Marison Bilagody. He won a science fair trophy and ribbon.
Bilagody based his entry "No Pain, Lots of Game" on the hypothesis that playing video games will distract a person from feeling pain, increasing their tolerance to pain from a serious injury and making recovery much less stressful while recuperating and undergoing treatment.
Bilagody based his information on a U.S. Army "Snow World" virtual reality experiment that showed that U.S. soldiers responded much more deeply and quickly to treatment from serious injury by having soldiers play video games while receiving treatment. The soldiers' video game playing was more effective in relieving pain than receiving straight doses of morphine for their injuries.
Bilagody decided to modify some of the U.S. Army's hypothesis and used an "ice bath" for several volunteer's toes to see how long a person can withstand pain and cold while being distracted playing a video game.
He first tested two volunteers trying to withstand an icy toe bath as long as they could without the video game distraction. Neither lasted more than one minute.
Then, Bilagody gave each volunteer a video game to play while at the same time putting their feet and toes in the icy water. Volunteer one was able to stand in the icy toe bath for a full three minutes before becoming too uncomfortable. The second volunteer was able to stand 94 seconds of icy bath water. Both volunteers were distracted by video game playing while submersed.
First prize winners for seventh and eighth grade: Kalista White, "Dish Soap." Elijah Holmes, "Absorbency of Diapers."
Second prize winners for seventh and eighth grade: Brian Scott, "Chystallography." Ian Burden, "Centrifugal Force."
Third prize winners for seventh and eighth grade: Edick Nuesca, "Parachute." Glenice Pesodas, "Electro-Drink."
Fourth prize winners for seventh and eighth grade: Wyatt John, "Growing, Gr, Gone." Tyrone Boon, "Chili Peppers."
Fifth prize winners for seventh and eighth grade: Suzette Vasquez, "Electric Spoon." Tyrek Eltsosie, "Simple Motor Spin."
Judges awarded honorable mention prizes: Jena Barlow, Joshua Fisher, Morgan Isaac, Jake Beard, Kyla Yazzie, Elijah Whiterock, Kassidee Huskon, Jordin Babbitt, Alison Francisco, DeShawn Tallsalt, Krystal Talashoma, Taizha Akee, James Roe III, Janice Manuel, Craig Joe, Tai Yazzie, Justine Cortez, Brittany Skrelunas, LaRaya Black, Rhiannon Worker, Victor Mann.