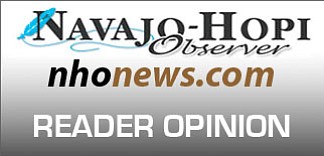 Originally Published: March 26, 2013 10:25 a.m.
To the editor:
The family of the late Courtney Martin Tsingine would like to thank the many relatives, friends and neighbors for the kindness and sympathy displayed as we came together to grieve and reflect on Courtney's life. Your expressions of love and concern, whether in the form of beautiful flowers, donations of food or money or just a kind thought of our family brought us great comfort, hope and encouragement during our time of grief.
We are especially moved and grateful for the very large number of people who attended the funeral service to pay their respects and say farewell to Courtney.
We would like to extend our sincere thank you to the personnel of the Antelope Point Marina for the moving tribute paid to the memory of our son. We also wish to thank the Tuba City Regional Health Care Corporation ER Department, the EMS Team as well as those individuals who were first on the scene and helped in any way.
Courtney will be sorely missed as a father, son, brother, uncle and friend, but will always be remembered for the loving, caring and respectable person he was to everyone. He was also a great father who lived his life the best he could and although his life was short, he accomplished much and lived it to the fullest.
We are comforted by all the memorable footprints he left behind that will be forever cherished and held in our hearts. Knowing how much our family, friends, and neighbors care during this difficult time has made our loss a bit easier to bear. Although words cannot fully express how grateful we are, it is our hope that this acknowledgment will be accepted as an expression of our sincerest thank you.
You are all a blessing to us. R.I.P No. 12, our quarterback, "The General."
Thank You,
Harley and Lavena Tsingine and Family
More like this story