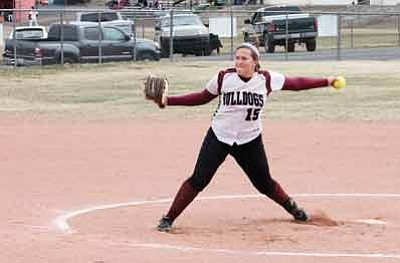 Originally Published: March 26, 2013 10:43 a.m.
The Winslow Lady Bulldogs softball team remained undefeated after winning the Bloomfield, N.M. Invitational Tournament March 15-16. The Lady Bulldogs blanked the Holbrook Lady Roadrunners March 13 at Holbrook 19-0 before heading for the tournament. They took a 7-0 record to Williams March 20 for a double header.
The Lady Bulldog's Halle Hayes did not allow a base runner against Holbrook and was five for five at the plate. Renee Bollin was four for four with a double. Andrea Bollin and Megan Lymer were one for one. Taylor Baca and Jamie Bollin were two for four with Baca hitting two home runs. Richelyn Villanueva and Dallas Zamora were one for two. Villanueva knocked in a home run and Zamora connected for a double. Alyssa Smith was one for three.
Villanueva got the 14-1 win over the Raton Lady Tigers in the tournament opener on Friday. She allowed one run on three hits and a walk. Hayes led the attack at the plate with a three for three performance including a home run. Baca, Villanueva, Lymer and Bollin were all one for two. Jaleisa Hayes and Bollin were one for three with Hayes hitting a triple.
Hayes won the second game on Friday 9-2 against the host Bloomfield Lady Bobcats. She gave up two runs on eight hits and two walks with six strikeouts. Winslow scored a run in the first inning and six in the fourth. Both teams scored twice in the sixth inning.
Bollin led the Lady Bulldogs at the plate with a three for four day including a double. Hayes was two for three. Lymer, Jolisa Jones and Jaleisa Hayes were all one for one. Smith was one for four.
Hayes worked the championship game against the San Juan Lady Broncos. Winslow won the tournament with an 8-4 victory on Saturday. Hayes allowed four runs on eight hits while fanning 10. San Juan scored once in the first inning but Winslow tallied a pair of runs. San Juan tied the game in the third inning but Winslow went up 4-2 in the fourth, 5-2 in the fifth and 6-2 in the sixth. Both teams scored twice in the seventh.
Hayes led all hitters with a five for five day including a triple. Lymer was two for three. Dallas Zamora and Taylor Baca were two for four with Baca hitting a double. Bollin was one for three. Villanueva was one for four.