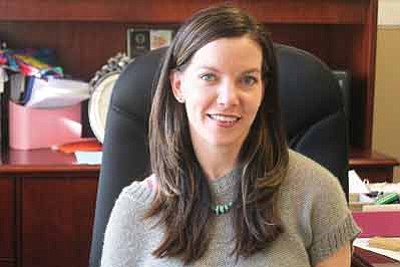 Originally Published: March 19, 2013 10:28 a.m.
Arizonans would make better-informed decisions about ballot propositions if presented with the fact that voter-approved measures are almost impossible to change later on, a state lawmaker says.
A bill authored by Michelle Ugenti, R-Scottsdale, would place disclaimers on ballots and official materials as well as campaign advertising explaining the impact of Proposition 105, also known as the Voter Protection Act.
Approved by voters in 1998, Proposition 105 prohibits the Legislature from reversing changes approved by voters. Changes that advance the purpose of a ballot measure are allowed but require a three-quarters vote of both houses.
The only way to overturn a ballot measure is another statewide vote.
Ugenti said she introduced HB 2007, which the House approved and forwarded to the Senate, to address confusion among voters about how difficult it is to change what voters approve.
"The intent here is to fully inform voters of the implications of their vote when it comes to approving these ballot initiatives because they can be very broad and far-reaching and have long-term ramifications," Ugenti said when HB 2007 reached the Senate Elections Committee, which endorsed the measure March 5 on a party-line vote.
Some lawmakers have complained through the years that Proposition 105 ties their hands when voter-approved measures, especially those committing money to certain purposes, need to be changed to serve the public good. As lawmakers attempted to address a budget shortfall in 2001, for example, they weren't able to reallocate the distribution of hundreds of millions of dollars generated by a voter-approved sales tax benefiting education.
The bill would require a Proposition 105 disclosure statement on campaign literature, advertisements, publicity pamphlets and ballots that reads, "Notice: Pursuant to Proposition 105 (1998), this measure can never be changed in the future if approved on the ballot except by a three-fourths vote of the Legislature and the change furthers the purpose of the original ballot measure, or by referring the change to the ballot."
Television commercials addressing ballot propositions would have to include the statement. It wouldn't have to be spoken if presented as text for at least five seconds in a 30-second advertisement or 10 seconds in a 60-second advertisement.
Sandy Bahr, director the Sierra Club's Grand Canyon Chapter, said using the word "never" is inaccurate and improper.
"I think that using the word 'never' is intended to discourage people from supporting measures on the ballot," she said in an interview.
Ugenti told the Senate Elections Committee that the House Rules Committee attorney determined that the disclosure statement is "factual and accurate."
"There was a lot of effort made to make sure that the statement was actually not inflammatory but rather generic and descriptive and the point was just to communicate what Prop. 105 does," Ugenti said.
Stephanie Nichols-Young, president of the Animal Defense League of Arizona, said that the addition of the disclosure would take up too much room on campaign signs.
"If we add this additional ... 50 words, I don't think there will be any room on your little sign and with a grassroots campaign that would be a huge problem," Nichols-Young said.
Eric Emmert, representing the East Valley Chambers of Commerce Alliance, said that all seven chambers in the East Valley support HB 2007 because it would educate voters on the impact of their decisions.
"In talking with members of their community, the chamber execs and the business owners were finding that nine times out of 10, when asked, people didn't know what the Voter Protection Act in Arizona was all about," Emmert said.