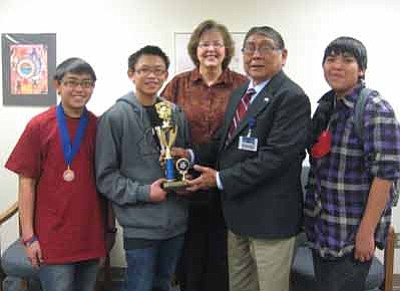 Originally Published: March 12, 2013 11:13 a.m.
It's always hard to win back-to-back championships.
Hopi Junior High's Nicholai Bolus was the Navajo County Spelling Bee Champion last year, but this year he settled for third place. He still took home a trophy and a cash prize at the Navajo County Spelling Bee Feb. 13 at Snowflake High School.
His brother Sean Bolus placed third last year, but finished fourth this year. Hopi Junior High's third contestant Antonio Puhuyesva was eliminated in an earlier round.
Rita Keith, advisor for the spelling bee team at Hopi Junior High, said the spelling bee went well this year. Sixty students from 13 schools competed with students from the fourth through eighth grades.
"All three boys prepared intensively on their own and during tutoring sessions with their sponsor," she said. "A lot of support at home has helped the boys to reach a high level of readiness."
The Hopi Junior High spelling bee competition began in January with 10 seventh grade students and 10 eighth grade students competing for the top spots.
"I was very proud of all three students' performances," Keith said. "It is a daunting experience for them to stand on a stage in front of a panel of judges and an auditorium full of spectators and maintain composure under such pressure. They did very well."
Keith said each year the county spelling bee evolves and this year it seemed the pronouncers veered away from the universal word list sooner than last year. So, winning or placing depended on spelling uncommon words. This gave the students words to spell that they couldn't prepare to spell.
Keith said the spelling bee is an important experience for students in many ways. She said they not only become more familiar with the English language, but they have the opportunity to be bold and proud as they stand on stage to compete.
"I think this helps students develop poise and self-confidence," she said. "Spelling bee is about understanding our language, which is no small task considering most of the words are derived from many other languages. Spelling is becoming a lost skill thanks to the computer age where Spell Check would appear to make it obsolete."
Keith said she would argue that taking the time to become a good speller means having respect for a language and how it is used. She said participants also perform better on state reading and writing tests.
Nicholai Bolus, who is from the Philippines, said he has felt an improvement in his reading and writing skills since getting involved in the spelling bee contests. The students prepare by memorizing words and doing dictionary research.
"It takes real dedication for a young person to spend this much time on an academic endeavor," she said. "We are proud of them and the recognition they have brought to Hopi Jr./Sr. High School."
Nicolai Bolus, an eighth grader, said he could have done better if he studied more but he was in Washington D.C. for a week. He was disappointed in his third place finish, but he said he was glad that he no longer had to study six to seven hours each day.
His advice to upcoming spelling bee contestants is to study hard and not give up, even when they start to get disinterested in learning more advanced and compact words.
Bolus said the spelling bee was important to him because it builds vocabulary and helped him speak English more fluently.
His brother Sean felt he knew the words and almost won first place, but missed the word "harfang." He said many contestants missed words they had never heard of. He said he could've improved by studying more, but he will continue to use the techniques he learned. Sean was happy with his fourth place finish, although he hoped to finish in the top three. He cheered for his brother and one Filipino girl.
His advice to future spellers is to study hard and not give up when they get frustrated.
"It was important to me because I wanted to improve my English skills," he said.
His dream is to go to the national spelling bee competition in Washington D.C.
Puhuyesva said he could've improved by studying harder. He said the spelling bee was important to him because he wanted a chance to go on to the state spelling bee and then the national spelling bee.