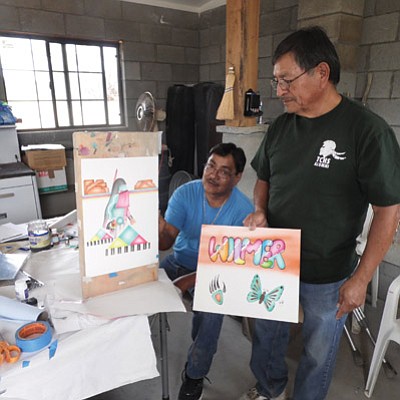 Originally Published: June 18, 2013 10:39 a.m.
THIRD MESA, Ariz. - There is likely no other art school in the world like the Hopitutuqaiki art school situated on Third Mesa.
Each class is designed to offer constant personal interaction between a master teacher and students with daily dialogue and idea exchanges. The teachers are master instructors with accomplished art backgrounds. The teachers inspire and instruct their students.
Four years into his instruction as a master teacher for Hopitutuqaiki, graphic designer, illustrator and fine artist Anthony Honahnie from Upper Moencopi, Coyote Clan is an example of the teaching staff for the art school.
Honahnie teaches both Air-brush painting and Acrylic painting at Hopitutuqaiki.
A former Tuba City High School Warrior, Honahnie was originally headed to Santa Fe's Institute of American Indian Art School after he left Upper Moencopi, but the Army drafted him the summer after graduation and sent him to Vietnam for a tour of duty.
A landmine injured Honahnie while in Vietnam and he ended up in the hospital for nine months. He went to Prescott's Veterans Affairs hospital for physical therapy and rehabilitation before his art career could pick back up. With a Purple Heart and an honorable discharge, Honahnie went on to successfully restart his career in graphic design and art.
He enrolled at the Arizona School of Arts in Phoenix and later transferred to the Advertising and Marketing Institute in Phoenix, where he earned a graphic design certificate. From there he went on to earn his Associate of Arts degree from Scottsdale Community College and then transferred to Arizona State University (ASU) to pursue a higher degree in graphic design.
While student teaching at ASU, Honahnie realized he was not meant to just teach art in a high school setting, but that he really wanted to open his own gallery and graphics business. So he enrolled at the Al Collins Graphic Design School in Tempe and earned a degree in graphic design and desktop publishing.
It was during his stint as a graphic designer at a TV station that he realized he could really make a good living at advertising graphics and technical illustration work. So he went back to ASU to fine tune these skills and ended up working as a technical illustrator for INTEL for six years.
Honahnie moved with his wife, a hospital administrator, to Santa Fe, N.M. and opened his own gallery, which featured his jewelry and acrylic painting. Honahnie ran the gallery, called Hopi Expressions, for six years.
His cousin Daniel Honahni, then the CEO the Upper Moencopi Hopi Tuuvi Travel Center and Legacy Inn, asked Honahnie to help him with the construction design work and interior design of the Tuba City hotel and conference center. The hotel now serves busloads of tourists traveling to Monument Valley, Page, the Grand Canyon and Hopiland.
The Tuuvi Travel Center and the Legacy Inn are both design testaments to Honahnie's artwork.
Honahnie doesn't just teach at Hopitutuqaiki.
"It's funny, I'm supposed to be the master instructor, but I have learned so much from my own students too," he said. "I learned that all Hopis and all Natives are naturally creative. They immediately understand the creative process. They just need to learn the technical skills to create the thoughts and ideas in their heads and hands. These classes at Hopitutuqaiki make you grow spiritually, even if you're non-Native, it's almost like meditating. The classes are purposely small, the conversations are quiet and thoughtful, things are slowed down and patient and it helps you find that inner inspiration for your art. And that truly is some of the magic of life."
Honahnie's airbrush class this year has only four students, age 13 to 59. Honahnie said he teaches the basics the first week, including how to care and clean the airbrush. He said learning how to control the air that comes from the compressor that powers the airbrush tool is essential.
Honahnie teaches some basic instructions on learning to make basic shapes that eventually help with the design and completion of an airbrush painting. He has the students practice circles, a cone shape and a rounded rectangle. He then has students draw alphabet letters that are bubble-rounded in shape so they can control the color and flow of paint before they start on their real painting projects.
"Then I let them design what their final painting will be," Honahnie said. "I encourage them to think of subject matter that is really personal to them, it does not have to be a Hopi subject, it can be a landscape or even an abstract topic. It really must come from their own inspiration."
There are a variety of art classes available through the Hopitutuqaiki art school, including classes in traditional Hopi belt weaving or basket making. The school also features Hopi food classes, creative writing and glass-blowing classes and two children's art classes. Hopitutuqaiki also has a Hopi language focused pre-school which the Arizona State Education Department has recognized for its excellence.
More information about Hopitutuqaiki is available at (928) 734-2433 or at hopischool.net.
More like this story