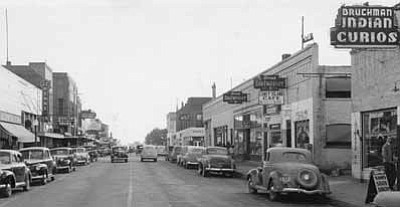 Originally Published: June 11, 2013 10:28 a.m.
WINSLOW, Ariz. -- Winslow is the grand opening host community for the Arizona Humanities Council's statewide tour of the Smithsonian exhibition, Journey Stories. The Old Trails Museum will play host to Journey Stories at the museum's partner venue, La Posada Hotel, from June 22 through Aug. 4.
Journey Stories explores the roles that migration, travel, and modes of transportation have played in American society. Journey Stories is part of the Smithsonian Institution Traveling Exhibition Service's (SITES) Museum on Main Street program, developed in partnerships with state humanities councils.
"The American story is unique, shaped by innovation in transportation, the personal will of many desperately desiring freedom and many others denied freedom's promise," said Anna Cohn, director of SITES. "From the Trail of Tears to Depression-era migration, Journey Stories showcases America's history of travel and transportation and helps visitors understand the connection of our ancestors to geography, events and the development of new modes of transportation."
Old Trails Museum Director Ann-Mary Lutzick said that Winslow has a rich history of stories that relate to migration and transportation.
"We are a community in the West, so most everyone came from somewhere else," Lutzick said. "The reason Winslow was founded has to do with transportation -- the railroad."
She added that Winslow also has stories of Route 66, the Charles Lindbergh-designed airport, trading posts, and ranchers who generally came from somewhere else.
"We have all the industries that the railroad brought, that relate to journey stories," Lutzick said. "We also have the fact that Winslow is a border town. The Hopi and Navajo peoples have always gone back and forth to Winslow for a bunch of different reasons, starting with trading posts and working for the railroad."
The bypass of La Posada and Route 66 played a role in Winslow's history both past and present.
"La Posada reopened and Route 66 got a historic designation, so people come here specifically because it got bypassed. They want to slow down and get off the interstate and take a look at authentic history," Lutzick said.
Winslow will showcase its journey stories in a community-wide effort called Journeys to Winslow, in a way that Lutzick said is exactly what the Smithsonian and state humanities councils designed the project to be.
"They literally won't bring these projects to towns that are too big because they would just get lost and wouldn't have this kind of community involvement," Lutzick said.
Lutzick and the museum also hope to re-launch an oral history project of former and current Winslow residents.
"This is such a part of telling a community's stories, to talk to people and really capture their words about their history and a place," Lutzick said. "How they got here is always a part of that story."
More information about this exhibit is available at www.oldtrailsmuseum.org/collections/current-exhibits/.
The Winslow Historical Society, a 501(c)(3) nonprofit corporation, owns and operates the Old Trails Museum. The museum receives, preserves and interprets information and artifacts representing the history and cultures of the Winslow area in order to engage and enlighten all visitors to the museum's exhibits and programs.
Located at 212 Kinsley Ave., in the heart of Winslow's historic business district and across from the Standin' on the Corner Park, the Old Trails Museum is open Tuesday through Saturday from 10 a.m. to 4 p.m. from April through November, and 11 a.m. to 3 p.m. from December through March. Admission is free and photography, group tours and research opportunities are available.