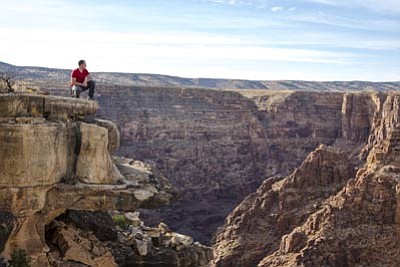 Originally Published: June 4, 2013 9:50 a.m.
CAMERON, Ariz. - On June 23, Nik Wallenda, also known as the "King of the High Wire," will walk on a tight rope across the Grand Canyon's Little Colorado River, his highest walk ever.
The walk will air live on the Discovery Channel at 8 p.m. (EST).
While the distance across will be similar to Wallenda's walk across Niagara Falls in the summer of 2012, the height over the Little Colorado River is 1,500 feet and is seven times greater than Niagara Falls - higher than the Empire State Building.
"The stakes couldn't get much higher than this," Wallenda said. "The only thing that stands between me and the bottom of the Grand Canyon is a two-inch thick wire."
Navajo Parks and Recreation operate the remote area Wallenda will walk across.
"We are honored to be a part of this historic event and showcase the beauty that exists on Navajo country," said Geri Hongeva-Camarillo, Navajo Parks and Recreation media representative.
Wallenda said walking across the canyon has been a dream of his for a long time. He wants to highlight the area, which he hopes will bring tourists and revenue to the area.
"I'm honored to be there, honored to be able to do this," Wallenda said. "I was honored with the opportunity to walk across Niagara Falls last summer and now I am excited that this dream is coming true. I'm looking forward to showing the audience a view of the canyon they've never seen before."
He said that contrary to what people may think, walking on the wire, even when it seems dangerous, can be very peaceful.
"Anyone who was watching that walk across Niagara Falls could see that I was talking to reporters and my father the whole time," Wallenda said. "You get into a zone. I'm not scared of it, I respect it. I realize there is danger involved and it's important that I continue to respect it no matter what. It is when I don't respect it that it becomes extremely dangerous."
Preparation and practice also goes a long way in reducing the danger. He has a lifetime of training. His family is the Flying Wallendas, who are known for high-wire acts without a safety net. He has been walking on a wire since he was two years old. He practices on the wire five days a week, three hours a day in his home town of Sarasota, Fla.
"I will be training on a cable close to the same distance, but down low to the ground, and we will recreate the winds and updrafts and side draft so that, hopefully, I will be prepared for anything I might face in the middle out there."
The wire is strewn across the canyon in much the same way as a power line is put up. A helicopter brings rope from one side to the other and then the rope goes through two machines that pull the rope across while it is connected to the cable. As a machine is winding the rope onto a spool another one is letting the cable off a spool.
But Wallenda said after the event, the area will look pristine.
"We pride ourselves that there is no footprint left behind whatsoever when we leave, everything is completely portable," Wallenda said. "The day after Niagara Falls, I spent three hours cleaning up trash myself. We love our landmarks as well and we want to make sure that they are left in pristine condition."
The television network that aired his walk over Niagara Falls required Wallenda to wear a safety line but this time he won't be wearing one.
"I've walked a wire without one my whole life so to wear one was actually scary to me because I was scared it would get caught up or trip me," Wallenda said.
Wallenda emphasized that he and his team don't take events like this lightly. The wire is rigged to all U.S. safety measures, and no matter what happens, it won't come down. Rescue teams will be on stand-by. The teams would be able to reach him wherever he is on the wire in 30 to 45 seconds. His father is his head safety coordinator and his uncle is his lead engineer and they oversee every step of planning.
"If there were any problems, gravity obviously pulls you down, I would grab that wire or wrap myself around it," Wallenda said. "We play up the drama, but I tend to play it down a lot of times, too. I have a beautiful wife and three beautiful children. Safety is of the utmost importance to me and my family."
Wallenda said his great-grandather, Karl Wallenda, is an inspiration to him and the seven generations of Wallendas still live by Karl's words, "life is on the wire, everything else is just waiting." Wallenda said this describes not just himself but his whole family down to the next generation of his children and his family's children.
"It is our lives, it's something I grew up doing. I have three children and they all walk the wire already, a nephew who is two was walking the wire in the backyard yesterday," Wallenda said. "It's just what we do and we do it for fun. My two-year-old is begging me to get on the wire because he sees how much fun it is, how much fun we're having. It is sort of like our family playground."