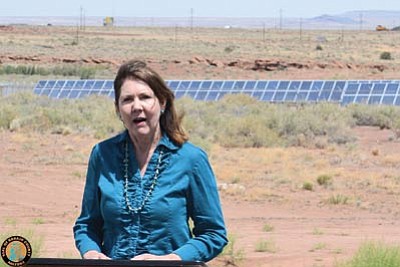 Originally Published: June 4, 2013 9:59 a.m.
HOLBROOK, Ariz. - Navajo County celebrated the completion of a new solar project that could provide more than 900 kWH of power to Navajo County facilities. Officials expect the solar panels installed by SolarCity will save taxpayers tens of thousands of dollars in the first year of operation alone.
"Navajo County's decision to go solar will benefit the taxpayers as well as the air we breathe," said Congresswoman Ann Kirkpatrick, who represents Navajo County in Arizona's 1st District. "It's encouraging to see Arizonans taking energy matters into their own hands - and families keeping more money in their own pockets."
County Chairman Jonathan M. Nez said Navajo County benefits from many partnerships, and the solar panel project is a prime example.
"We are very pleased with the results of this solar project," Nez said. "Not only does it provide a long-term and sustainable form of energy to our facilities, but it demonstrates the forethought and vision that our staff and corporate partners can share to achieve great things for our tax payers."
The completed solar array is located next to the Navajo County Main Complex and County Jail in Holbrook. According to officials from Arizona Public Service, the solar power system has offset 80 percent of the two buildings' electricity needs to date, bringing immediate and long-term savings on energy bills.
SolarCity has more than 55,000 customers and has more than 3,000 employees nationwide.