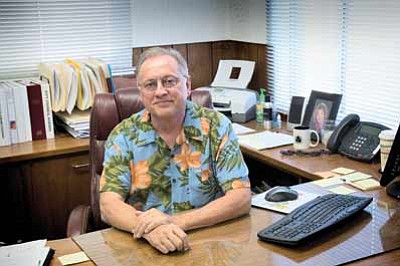 Originally Published: July 2, 2013 10:44 a.m.
WINSLOW, Ariz. - The Navajo-Hopi Observer talked to Jim Ferguson about his eight-year tenure as Winslow city manager June 27. Ferguson's final day as manager is July 13.
How long have you been Winslow city manager?
Well I was the city administrator for two years and city manager for another six years for a total of eight years. City administrator and city manager are not interchangeable terms. City manager is a very well defined position, and the administrator is somewhat of a hybrid and does not have all the same authorities as a city manager does. We were a city with a charter that specified an administrator but that was changed a few years back.
How did you come to be interested in the city manager profession?
It really goes back to before I was mayor of Provo, Utah and I was very involved in city problems. Before being elected mayor, I worked for seven years as a counselor at a Job Corps Center getting young men to function better in society and get them started in a trade. After four or five years I began to see some of the same men that we had previously helped returning to our Job Corps Center. It looked to me that we had made a change in the men but sending them back into the same environment, so that made me start thinking about changing the environment itself. I was already involved in the community but I began to look more at overall administration of cities and what I could do to provide positive change in the community.
Do you think you have accomplished much in your eight years as Winslow city manager?
We've seen a lot of changes for the better here. When I first came to Winslow there was a lot of turmoil and divisiveness within the community. Now that level of rancor is gone and we work together much more smoothly. There's always disagreement and that's OK, that's the nature of community, but I don't think it's as divisive as before. We also knew there were some major issues with the image of the city, so we've taken that on and have made major improvements in our image. This is a team effort including the city council, mayor and city staff.
When I observe city employees of all types they're always working hard. It looks like nobody is standing around holding up a shovel?
Not anymore! We don't have any shovel holders now. If someone has a shovel, they're digging. We don't have any city supervisors that are just observers. Winslow city supervisors are all working staff.
I think I heard Winslow Police Chief Garnett was on patrol during the Memorial Day weekend?
Yes, it sets a good example for all of our employees and puts two more boots on the ground.
July 13 is your last official day for the city but what are you going to be doing on July 14?
Well, July 14 I suspect I'll be somewhere with my wife enjoying a little bit of a vacation.
More like this story