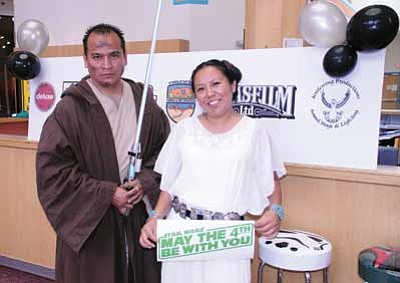 Originally Published: July 2, 2013 10:15 a.m.
WINDOW ROCK, Ariz. - "Star Wars IV: A New Hope" first premiered in 1977. A Navajo language version of the movie will premiere tonight during the Navajo Nation's Fourth of July celebration, a first for a major motion picture.
"We are proud of this project," said Ben Shelly, Navajo Nation president. "We have great value in our language. Our Code Talkers helped the Americans defeat the Japanese during World War II, and now we can look forward to seeing one of the most successful movies in history now be dubbed in Navajo. This is exciting."
Manny Wheeler, director of the Navajo Nation Museum, thought the movie should be translated into Navajo about 15 years ago. He bought a script of the movie and his wife, a Navajo teacher, translated the first chapter into Navajo in about 15 minutes. Their original idea, helping people learn and be engaged with the Navajo language, stayed the same over the course of the years.
"I will use myself as an example because I am not a select speaker," Wheeler said. "What would it take for someone like me who wants to learn Navajo to feel engaged, to feel like there's a welcoming aspect to come and learn the Navajo language? This is definitely one of the ways."
There were five Navajo translators whose jobs translating from English to Navajo were paramount to the project. They were Joe Kee Jr, Aretta Begay, William Nakai, Jennifer Wheeler and Elsa Johnson.
Johnson, who performed the voice of Luke's Aunt Beru, said she has translated movies for her mother so she could understand what was happening. The Navajo Star Wars is a step in the right direction.
"There is a communication gap between the young and the elders so hopefully we can see the young and their grandparents actually enjoying a film together for the first time and actually understanding it," Johnson said.
For Johnson, the dubbing process was amazing.
"You can tell who works with the language, who teaches the language, they would just step into the booth and start right out and it was wonderful, I was impressed," she said.
Wheeler said Navajo words and English words are not always the same length and translating meaning is not always straightforward.
"If the line in Navajo is too long, it is not going to match the lip movements so they would have to adapt, which means come up with a different way to say these lines so that they get the point across and the translation is still as accurate as possible," Wheeler said.
Johnson said that because Navajo is an oral society, people pass down stories and songs for generations. That made the process easier. She said the parts of the movie that are funny lent themselves easily to an interpretation in Navajo.
"Our language is very animated and intimate. When you translate into English everything is kinda flat or diluted but our language is colorful so the funny parts get funnier," said Johnson.
Deluxe audio mixer Francisco Rodriguez was in charge of sound during the recording and dubbing director Ellen Stern of Epcar Entertainment coached Navajo actors to deliver voices that capture a realistic representation of the movie.
"This was an intense recording session that went 12 days straight. I know the public is going to be blown away when they get to see what they have done. The actors, translators, dubbing director, audio mixer and Knifewing Studios made a great team and it couldn't be done without all of their involvement," Wheeler said.
Wheeler wants to make sure people know that although the translation of the movie was about the preservation of the Navajo language several non-Navajos who contributed to the movie, including an Anglo and people from several other tribes. They each have lines that are spoken in Navajo.
Wheeler said a tremendous amount of help came from the entertainment industry including Lucas Films, Fox Studios and Deluxe. Each of those agencies understood the importance of what Wheeler was trying to do with the project.
The Navajo Parks and Recreation Department will sponsor the premiere and are putting on the Fourth of July celebration and the Navajo Nation fair where the movie will be screened.
"Our department is proud and honored to be a part of this innovative and entertaining approach to helping preserve our Navajo language," said Martin Begaye, department manager for the parks department.
Johnson said Navajos are natural storytellers.
"We have to remember Navajo is very creative, they are creative, they're weavers, they're artists, they're storytellers and basket makers, this is just a creative way to get those Navajo children and adolescents interested in their language and want to learn their language," Johnson said.
Wheeler recently watched the executive premiere.
"It was mindblowing. It was amazing," he said. "I can't wait for everyone to see it."
Johnson said the whole experience was fun and intense and she hopes that the audience will realize that while there are other forms of immersion this is an important one too.
"I encourage the young people to please learn their language because you never know where it will take you. These people never learned of voice acting," Johnson said. "You just never know how useful your language can be, it's a beautiful language, it is designed for us by the holy people and our code talkers used it - it's a different use but this is creative and a way to encourage the young people to learn the language."
More like this story