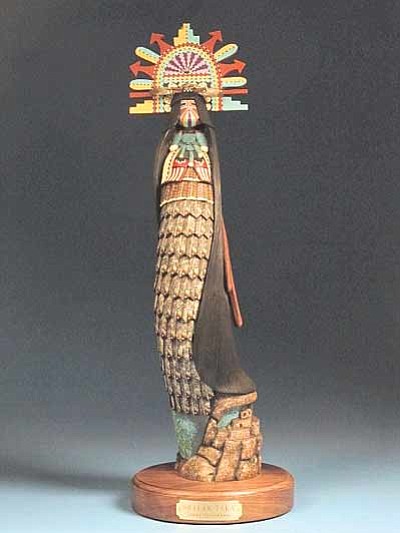 Originally Published: July 2, 2013 10:31 a.m.
PRESCOTT, Ariz.-Hopi artist Gerry Quotskyva is this year's featured artist for the 16th annual Prescott Indian Art Market (PIAM), which takes place July 13-14 at Sharlot Hall Museum in Prescott.
As the featured artist, his artwork will appear on the market's t-shirts.
Quotskyva, who is from Second Mesa, is known for his katsina carvings, but he also works on acrylic paintings and bronzes. His interpretation of Hopi art incorporates the Hopi symbolism of clouds and rain.
Quotskyva has won national awards and has been recognized through public television, books, exhibits and commissions, including a permanent collection for Xavier University in Ohio.
The painting on the t-shirt comes from the acrylic abstract shows a cornstalk using a long-haired katsina. The background is a reddish-pink. The foreground is the blackhair katsina with a blue face.
The market's judges selected his acrylic painting off his website. It is a painting that he created a couple years back.
"They selected one of my most simple pieces," he said. "Most of my pieces are more detailed."
Quotskyva has won awards from the Arizona State Museum, Heard Museum, Mesa Verde Indian Market in Colorado and a renowned award from Indianapolis. But the recognition as the featured artist for the market is special.
"As featured artist, you get a lot of promotion and exposure. It's an honor. I wondered why I was selected," he said. "I think a lot of it had to do with the quality of the photos we submitted to the shows."
Quotskyva said he enjoys the Prescott market because it always ends in rain, which is good for Hopis.
"The venue is small and selective," he said. "It's not
crowded. There's a lot of room to roam. It's relaxing to get to visit with friends."
Quotskyva started creating his carvings almost 20 years ago for therapy not knowing it would turn into a livelihood. He soon started winning awards, which convinced him to take his own art seriously.
"My workmanship started improving. Then I combined my carvings and paintings. Now I'm going in a more contemporary direction and getting into bronzes," he said.
Quotskyva said good artists can use any medium to express themselves. He feels that too many galleries use just one type of art in order to make money.
Quotskyva has watched the art world, for both natives and non natives, become more competitive. Yet, there are more opportunities for artists because of the Internet.
"It makes it possible to be more independent and some artists never leave their house. I stay home a lot but go out when I want to," he said. "Artwork also provides opportunity for travel and new experiences. I joke that I make one appointment a month and I'm late."
Quotskyva said he started learning arts and crafts in high school, but is mostly self-taught. He is often touched when former customers come up to him to show that they still have the work he sold them.
His mother Frances Quotskyva-Wester is an award winning acrylic painter who recently won a state award and helped get the newly founded Hopi Artist Trail off the ground.
More information about Quotskyva's art is available at www.kachinacarver.com
PIAM features carvings, ceramics, sculptures, paintings, hand-woven baskets, blankets and jewelry. Certified American Indian artists judge the artists who produce traditional and contemporary artwork.
Visitors will have a chance to speak with the artists and walk among Indian demonstrators as they carve katsina dolls, hammer silver and weave baskets and rugs.
Native American dancers, singers and musicians provide entertainment throughout the weekend outdoors. Navajo fry bread is a crowd favorite among the food available at the market.
The show is open from 9 a.m.-5 p.m. on Saturday and 9 a.m.-4 p.m. Sunday. Admission is $10 for the general public and $8 for museum members. Children can enter free of charge.
Sharlot Hall Museum is located in downtown Prescott, two blocks west of the Courthouse Plaza, 415 W. Gurley St.
More information is available at (928) 445-3122 or www.sharlot.org.