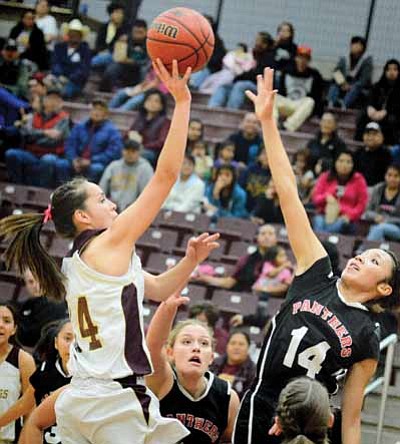 Originally Published: January 29, 2013 10:47 a.m.
The Page Lady Sand Devils defeated the Winslow Lady Bulldogs 40-39 in a tightly played game in Page Jan. 24.
The win improved Page's record to 15-4 for the season and dropped Winslow's record to 16-4. The teams have now each won at home and lost on their opponent's court.
The Lady Bulldogs led most of the way after pulling ahead 9-8 after the first period. The Lady Bulldogs led 18-16 at the half and 31-25 after three periods. Page outscored the Lady Bulldogs 15-8 in the final quarter and won on a last second basket by Page's Jessica Anderson.
Anderson and Ember Loan led all scorers with 13 points each for Page. Laylane Benslow led Winslow with 11 points and was the only other player in double figures.
Winslow Lady Bulldogs vs. Coconino Lady Panthers
The Winslow Lady Bulldogs got back to their winning ways when they defeated the Coconino Lady Panthers 53- 39 in Winslow Jan. 25. The win improved Winslow's record to an outstanding 17-4 for the season. The Lady Bulldogs will take on the Holbrook Lady Roadrunners at Holbrook Wednesday and host the Tuba City Lady Warriors on Thursday in the final game of the regular season.
Winslow built an 18-9 lead in the first period and lead 31-16 at the half. The margin was a commanding 44-20 after three quarters of play.
Mattea Begaii led all scorers with 15 points for Winslow. Jessica Golding led Coconino with 14 points. Those were the only players in double figures.