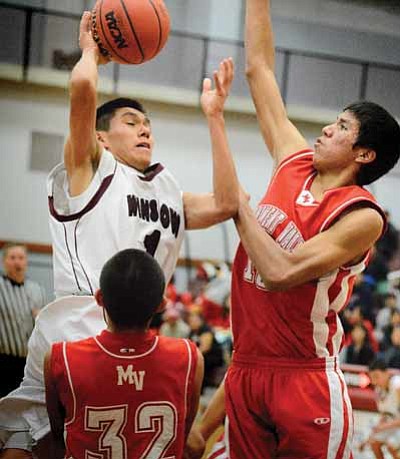 Originally Published: January 22, 2013 11:29 a.m.
The Winslow Bulldogs defeated the Monument Valley Mustangs 61-44 in Winslow Jan. 19. The win broke a five game losing streak and got the Bulldogs back on track with a 13-10 record for the season.
The Bulldogs will meet the Page Sand Devils at Page on Thursday.
Winslow found itself in a deep hole after the first quarter trailing the Mustangs 13-4. In the second quarter, the Bulldogs turned the game around with a pressing defense and a 20-point offensive performance giving them a 24-19 advantage at the half. The Bulldogs increased their lead to 40-28 during the third quarter and continued to pull away in the final period.
Brennan Holiday led all scorers with 18 points for Monument Valley. Michael Goldtooth led Winslow with 17 points. Clayton Yazzie also scored in double figures for the Mustangs with 12 points. No other Mustang scored more than five points.
Lucas Shirley scored 11 points and Frank Kelly scored 10 points for Winslow. Timmy Little scored nine points and Keenan Keams knocked in eight for the Bulldogs.
The Bulldogs will complete the regular season at home against the Coconino Panthers on Friday and against the Tuba City Warriors Jan. 31.