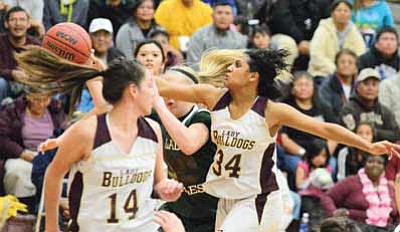 Originally Published: January 22, 2013 11:14 a.m.
The Flagstaff Lady Eagles defeated the Winslow Lady Bulldogs 65-63 in a close game played at Winslow Jan. 18. The win improved Flagstaff's record to 8-11 for the season and dropped Winslow's to a still very impressive 16-3.
The game was close through all four quarters and not decided until Winslow missed a free throw that could have tied the game with less than two seconds left to play. Flagstaff added a free throw inside the last second.
Flagstaff led 15-14 after the first quarter and 32-31 at the half. The Eagles led 47-46 after three quarters. The Lady Eagles put together a 10-point lead in the final period but Winslow rallied and had a chance to tie the game in the closing seconds.
Mattea Begaii of Winslow led all scorers with 24 points. Halle Hayes also scored in double figures for the Lady Bulldogs with 13 points and Shandiin Armao scored nine points for Winslow.
Kyndell Kelly led the Lady Eagles with 21 points. Rancita David scored nine points and Savannah Bix, Jessica Tapaha and Molly Collins all scored eight each for Flagstaff.