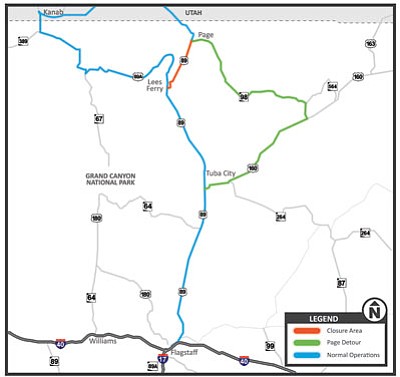 Originally Published: February 28, 2013 12:16 p.m.
Page, Ariz. - A 23-mile-long stretch of US 89 (mileposts 523-546) is currently closed between the US 89A junction near Bitter Springs to the State Route 98 junction near Page.
ADOT expects the stretch of roadway to remain closed indefinitely because of a landslide Feb. 20 25 miles south of Page.
ADOT officials said in a press release that motorists should consider their options and allow extra travel time if they are traveling between Flagstaff and Lake Powell or into Arizona from southern Utah via Page.
Alternate routes include traveling east for 50 miles on US 160 to State Route 98 and northwest on SR 98 for 65 miles to Page. The detour adds an additional 45 miles over the direct route.
Drivers also have the option to take northbound US 89A through Marble Canyon toward Fredonia to reconnect to US 89 in southern Utah. On this scenic stretch, drivers may take a pit stop at the Marble Canyon-Navajo Bridge Rest Area. Motorists can reach Page using this route by traveling north to US 89 in Kanab, Utah and southbound on US 89. It's an additional 80 miles longer than the direct route.
Drivers traveling from Utah to Phoenix can also take Interstate 15 toward Las Vegas before connecting to southbound US 93 in Arizona to US 60 into the Phoenix area.
ADOT urges all commercial truck traffic to use one of the proposed alternate routes on state highways and avoid traveling on any local roads.
ADOT has not issued a timetable to reopen the highway, which has approximately 500 feet of damage, including 150 feet of pavement that buckled four-to-six feet due to a landslide and failure of the slope.
For up-to-date information on the US 89 closure, please visit www.azdot.gov/us89.