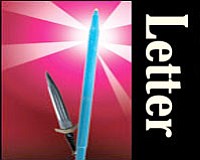 Originally Published: December 31, 2013 10:13 a.m.
To the editor,
The recent public criticisms of Arizona's Child Protective Services (CPS) really aren't that new. Arizona's children, our kids, deserve better. Our tax dollars are at stake when down the road abused and neglected children need extra care, therapy, counseling, and other services, the costs of which we know far outweigh the costs of prevention today.
As another 6,000 misreported cases surface, it's very easy to be reactive, point our fingers, and throw up our hands. As a community advocacy and action agency, Coconino Coalition for Children and Youth (CCC&Y) encourages a more proactive approach to address the many challenges that CPS faces.
Prevention. We say it again. It's critical to recognize prevention includes nurturing new and existing services and supports like foster families, and grandparents raising their grandchildren. Prevention means supporting substance abuse and mental health programs, parenting classes, youth mentorship, and afterschool and out of school time programs. Prevention means providing early childhood education and safe child care opportunities for families.
It's easy to focus energy on the cause and the blame. It's much more of a challenge to look at how we as individuals can bolster the positives in our community, the existing services which continue to prevent and end child abuse and neglect with encouragement, resources, counseling and care.
For a complete transcript and recommendations from a recent CPS forum, visit azchildren.org. For a list of resources serving children, youth and families, and ways you can contribute and support these services, visit coconinokids.org and news.coconinokids.org.
Executive Committee Coconino Coalition for Children and Youth (CCC&Y)
Flagstaff
More like this story