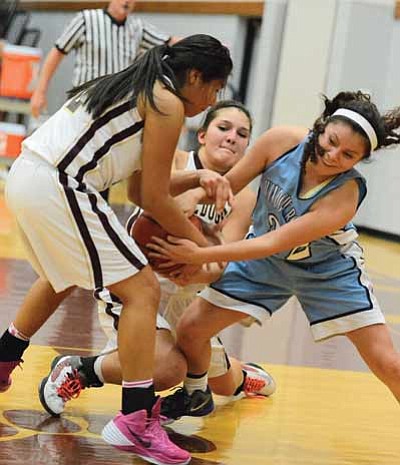 Originally Published: December 10, 2013 10:46 a.m.
WINSLOW, Ariz. - The Window Rock Lady Scouts edged the Winslow Lady Bulldogs 62-57 in overtime at Winslow Dec. 3.
The game featured what many consider two of the best girls basketball teams in the state. The loss dropped Winslow to 1-1 for the season. Winslow traveled to the Gallup Invitational Tournament Dec. 5. The win was Window Rock's first game of the season.
The Lady Bulldogs led 12-10 after a close first quarter and were up 30-25 at the half. Window Rock came on strong in the third quarter and cut the lead to a single point at 43-42 going into the final period. The Lady Scouts outscored Winslow nine to eight in that period to tie the score at 51-51. Window Rock outscored the Lady Bulldogs 11-6 in the overtime period to take the victory.
Shandiin Armao led all scorers with 26 points for the Lady Bulldogs. Marcella Joe was also in double figures for Winslow with 12 points as was Halle Hayes with 10 points. Only three more Lady Bulldogs scored. Tannon Tom scored five points. Michaela Bia and Kaelyn Bitsoi each scored two points.
Window Rock also had just six players score but four of them were in double figures. Naomie Klah led the Lady Scouts with 16 points. Keeziz Owens and Shaniya Bitsoi scored 12 points each and Nichole Banally tallied 11 points. Caleigh Curley scored seven points and Danelle Smiley scored four points for the victors.