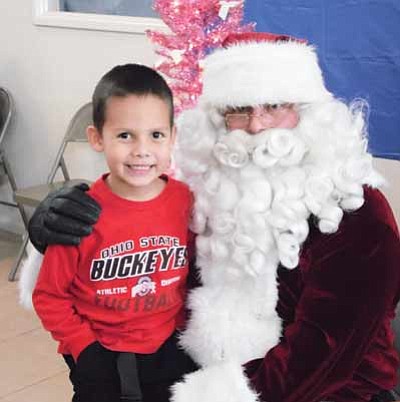 Originally Published: December 10, 2013 10:56 a.m.
HOTEVILLA, Ariz. - Around 60 volunteers with Hopi Outeach delivered useful household items including five-gallon water containers, heavy socks, sweaters, gloves and hats to elderly members of the Hotevilla Hopi community last weekend. The group also distributed free toys, Christmas stockings filled with fruit and treats, and new winter clothing to kids in the community.
Mike Sweat is the founder of Hopi Outreach, a non-profit organization which helps with the education and the economics of Native tribes throughout the United States. The group is based in the Four Corners area.
Sweat founded Hopi Outreach in 1975 after he was an Latter-day Saints missionary assigned to work on the Hopi reservation. He started collecting donations for delivery to the Hopi Reservation 15 years ago with the help of a few friends. Now his organization has expanded to more than 100 annual volunteers who start collecting toys, clothing items, food, and gently used and new furniture to give to elderly community members and children in all 12 Hopi villages. The organizations starts at the east end of the Hopi reservation in First Mesa and working their way 92 miles west to both Moencopi villages.
Sweat and the volunteers made the trip despite chilly weather. Snow started to fall during the afternoon event at the Hotevilla Youth and Elderly Center at Third Mesa.
Current Hotevilla Community Village board members Kevin Lomatska, Sandra Dennis, and Sandra Suhu along with their village staffers and several community volunteers including Elva Uqualla, Neil Uqualla, Melody Wytewa, Pam Ovah, Chris Patterson, Angie Honyouti, Christine Sakenima, Muriel Scott, Orin Sakenima, Ralford Phillips and Ferris Humeyumptewa served cookies and side snacks along with hot chocolate and coffee to all the waiting parents and community members.
Hotevilla board members said they wanted to serve their whole Third Mesa community and would not discriminate in the toy or clothing distribution on Dec. 7.
"The village board wants everyone who is here with us today, even if they aren't from our own village, to receive something from Sweat's organization, to enjoy the day, share some snacks and fun, along with the idea of generosity and giving especially now during this holiday time," said Muriel Scott, a Hotevilla community volunteer with the event.
Sweat and his volunteers from Hopi Outreach mingled happily with the families and children while enjoying a cup of coffee. Many of the local Hopis have been friends with Sweat since his missionary days at Hopi many years ago.
It was a real Hopi homecoming for many of the returning Hopi Outreach volunteers who have made friends with Hotevilla community members since Hopi Outreach was first founded.
A large part of Sweat's inspiration and passion for giving back to Hopis started after he became a successful drywall contractor. With so much financial success in his life, Sweat wanted to give back in some way to the small tribal community he had been so personally inspired by through Hopi traditions, language, culture and the Hopi community's strong dedication to their families and villages.
People donated more than 150 hams to Sweat's organization and next week the organization will truck more than 7,000 pounds of fresh potatoes to the Hopi reservation for distribution to all 12 villages for household cooking.
Hopi Outreach will now help with home and roof repairs in each village.
"It's all about giving and it's such a joy to be able to volunteer and help out, it's the best feeling," said one of Sweat's biggest volunteers, Arthur Letkey, who was at Hotevilla with his wife Carol on the distribution trip.
Sweat said his volunteers collect all year long, with many volunteers hand making hats and scarves.
There were so many donations this year, that it took three semi-trucks to transport all the items to the twelve villages from Sandy, Utah.
More information about donating or volunteering with Hopi Outreach is available at HopiOutreach@gmail.com.