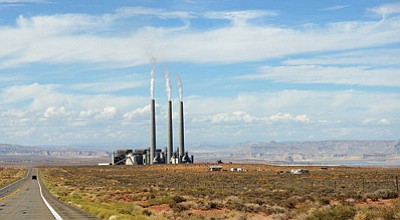 Originally Published: April 30, 2013 9:47 a.m.
WINDOW ROCK, Ariz. - The Navajo Nation Council tabled a decision until Monday on a Navajo Generating Station (NGS) lease extension, citing concerns about the federal government's role, water use, pollution and the make-up of the negotiating team.
Erny Zah, director of communications for the Navajo Nation, said the lease extension has been negotiated for the past two and a half years and the idea that the council wasn't involved is not true.
"The negotiating team had update meetings for council and other leaders to let them know where negotiations were going and where they were at and where do we go from here," Zah said. "A few of the delegates took that opportunity to voice their opinion and did help guide the negotiating team to some areas that would hopefully be satisfactory to what the council people were wanting."
Navajo Nation President Ben Shelly said in a letter to council delegates that the negotiating team negotiated a solid agreement for the Navajo Nation.
"The current lease, including taxes is approximately $3 million a year. If the Nation approves the lease renewal, the Nation will receive $43 million a year starting in 2019," Shelly said.
A new study released by Arizona State University said the Navajo Generating Station and Kayenta Mine will help contribute nearly $13 billion to the Navajo economy and help support nearly 75,000 jobs from 2020 through 2044, if the lease gets extended.
"I have been saying that NGS plays an important role to the Navajo Nation. The power plant does more than create revenue for the Navajo Nation government, the plant stimulates the local economy," Shelly said.
He added that Salt River Project said there is little room to negotiate, if any.
"They consider the major points of the agreement to be exhausted, such as jurisdiction and money," Shelly said. "Because of mitigating circumstances the water concerns are unlikely to be resolved before the timeframe needed to finalize the lease extension."
Other advocacy groups are calling for the tribe to assess the past 45 years of the lease looking at the effects of coal pollution on residents and on air quality and water quality, especially with the lease extending to 2044.
Wahleah Johns, Environmental Justice Coordinator for Black Mesa Water Coalition, said the Navajo Nation needs to start looking at transitioning NGS to a renewable energy plant.
"Look at the existing transmission lines that run through Black Mesa which feed California and Nevada with their energy needs for all these years, there is existing infrastructure in place if the Navajo Nation or the Hopi Tribe wanted to sell renewable energy to California or Nevada," Johns said. "Instead of providing coal power we could provide renewable energy power."
She added that California will soon stop buying coal power and that is why the Los Angeles Department of Land and Water is pulling out of being an owner of NGS.
"California is getting out of the coal business and I think there is an opportunity there," Johns said. "We are saying, these existing transmissions come through our home lands and we have an abundance of solar potential and why not sell? If they don't want our coal power, we should be able to be given the opportunity to sell solar power to these markets."
Zah said aquiring an ownership stake is one of the most important and under reported portions of this new lease agreement.
"We would have the option, a guaranteed option of purchasing 7.5 percent ownership stake in the power plant," Zah said. "Along with that goes the transmission rights."
Zah said the transmission rights are important.
"It's like you have a power generator at home and you don't have an extension cord," Zah said. "We're trying to get access to that extension cord, so we can put in a solar generator, we can put in whatever means of power that is feasible for us, we would have that option.
"Imperative to any energy project anywhere, is the ability to move that energy, whether you generate it by solar, wind, coal, natural gas, however that energy is generated, it doesn't matter until you can move it."
He added the ownership stake gives the Nation the right of first refusal, so if anyone backs out of NGS the nation would have the option to purchase that share.
"We all know that eventually the power plant is going to transition its way into another form of energy production," Zah said. "This is one of the ways that we can protect ourselves if the energy is not going to be produced by coal."