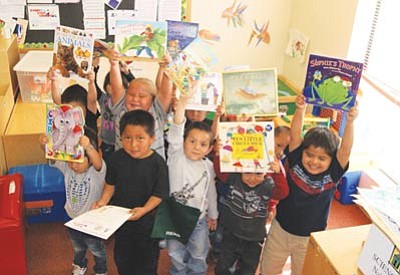 Originally Published: April 30, 2013 11:21 a.m.
WINDOW ROCK, Ariz. - During Christmas, Santa Clause delivers gifts to little children all across Navajo land. But on April 16, the Navajo Library delivered gifts of books to Navajo children at four Navajo Head Start schools: Kinlichee, Jeddito, Steamboat and Low Mountain, Ariz.
At each location, children smiled as they received their books and they held them with respect. Immediately upon receiving the books, the children opened the books and turned the pages excitedly.
Despite windy weather with blowing sand and low visibility, the Navajo Library reached its goal to deliver 100 books to Head Start children.
"These young Head Start children are our future leaders, lawyers, doctors, nurses, teachers, mechanics and other professions," said Rosalie Tsosie, a teacher for 16 years at Steamboat Head Start.
Books have a positive effect on childrens' education especially at the Head Start level.
"These books came from a project in which a Boy Scout from Salt Lake City, Utah, collected donated books and the Navajo Library received the books to deliver to Head Start children," said Everett Etsitty, senior warehouseman with the Navajo Nation Library. "This is a two to three-month process and today we delivered 100 books. These children's books are Head Start and elementary reading levels."
Shane Oh, an Eagle Scout candidate, with Boy Scout Troop 384 and a senior at Skyline High School organized the book drive. He coordinated his efforts with several other volunteers and libraries. Oh's book drive collected more than 1,000 children's books.