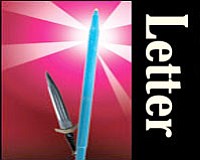 Originally Published: April 30, 2013 11:08 a.m.
To the editor:
Navajo Generating Station (NGS) lease extension negotiations have lately been a subject of discussions involving many ideas from various factions centering on whether NGS should continue operations. Should NGS shut down like Mohave Generating Station? Should NGS convert to a non-coal burning plant? Each option has good, bad or unreal conditions associated with it.
Personally, closing NGS is not my objective. My intent is for the Navajo people to finally begin receiving a fair share of NGS profits as a direct result of natural resources used on their home land. I know if the negotiation roles were reversed NGS participants would be taking the exact same position I am promoting. My position is not personal. It is strictly smart business.
To Navajo employees of NGS and Peabody Western: you have personally benefited from the arrangement the past 40 years. It is now well past time for you to remember your people who are less fortunate. The current offer for a NGS lease extension is only $42 million, which is only enough to cover Navajo government employee payroll for six months, nothing for the 110 chapters.
After this lease is negotiated and we look back to this day in 10, 20 or 44 years, can we honestly say the agreement was the best we could have negotiated? Do you honestly believe that the agreement from 1969 was the best our nation has negotiated? I do not think so.
I've communicated my recommendations to the Navajo Nation Council based on my experience while employed at NGS for nearly 20 years. Knowing the owners personally and knowing the Anglo people and their attitude and having lived among them most of my life.
The reason for my recommendations to the Navajo Nation Council is for one simple reason, and that is I love my people. I'm tired of seeing my people get cheated out of their rich resources.
This is where we're at today with the NGS lease negotiation. Again the greedy are preparing to take from Navajo as every time before! When will our leaders realize what is happening to us? I am without doubt upset with Johnny Naize, Harrison Tsosie, and Ben Shelly for agreeing to accept peanuts offered to the Navajo all over again. Well, they can have the peanuts. We'll take a couple hundred million bucks or more per year for our precious resources for however long NGS will be worth the lease. NGS owners are not the only game in town. There are outfits in Japan or Germany who may be interested in partnering with Navajo on NGS.
The Cobell lawsuit exposed that the Secretary of the Interior favored the energy companies over Indian benefits for many years. That was bad enough, but when I see our leaders favoring NGS owners over their own people it angers me and I have to speak out to say 'just what are you trying to prove anyway?'
Didn't they see the news reports about sequestration recently from Washington D.C. concerning lessening Indian programs by $130 million? Instead of Shelly whining to President Obama about what we're not getting, he should stand up to NGS owners and tell them what our resources are worth and demand fair market value.
Navajo has to have better than $42 million. I'm suggesting more than $100 million per year, even $200 million per year for Navajo plus negotiating the purchase the Los Angeles Water and Power's 21.2 percent interest in NGS which will earn Navajo at least an additional $118 million totaling about $328 million per year for Navajo from NGS. This is better than the piece-of-junk mine President Shelly is talking about buying for Navajo.
We have to improve our infrastructure - roads, power lines, water lines - and be equal to places like Phoenix and help those who are truly in need. For those of you who will benefit the most from a quick negotiation settlement, think about those who are less fortunate than you. You see them every day whether they are relatives or members of the communities close to your homes. The $42 million offer in the world of corporate profits is a deception.
Tulley Haswood
Rock Spring, N.M.