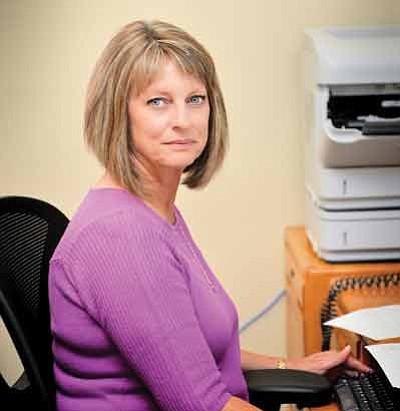 Originally Published: April 16, 2013 10:15 a.m.
How many years have you lived in Winslow?
I've been in Winslow since I was two weeks old and I'm turning 60 in about four weeks.
How long have you worked in this position at the high school?
I've been in this same position since I first came here and I came to work at the school December 10, 1986. So I'm in my 27th year.
How did you get started in this type of position?
Well, in high school I was very good in bookkeeping, stenography and office practices so when I graduated I went to work for a local attorney and used my shorthand skills and my typing skills and everything I learned at Winslow High School, which is pretty cool!
You must have been somewhat skilled in the area?
I have to admit that from the time I was a little girl about 7 years old and I have two older sisters and we used to play "office." We had an old Underwood typewriter and big closet which we made into a private office and have a secretary sitting at the end. We made appointments and fake phone calls. And I liked it from the time I was little.
What is a typical day like for you here?
Typical day is nonstop and never the same. Hard to describe everything I do in a day.
What is the best part of your Job?
Oh gosh, that's hard to answer. I absolutely love the people I work with. They are just the best. And it's really nice as having youngsters as principal and assistant principal because they are like my kids and I want them to do well which makes me work harder. Because I want them to shine - and they do shine, they are terrific. The kids are wonderful, I think the kids keep you young.
What's the worst part of your job?
You know I don't know that there is a worst part. I think the worst part at this point is all the change that I see in education, all the mandates handed down by the state and the federal government. And that is the hardest part. I see them putting more and more of a burden on our schools with nothing additional coming our way in the way of funding. Puts us in a horrible predicament.
What is the most memorable experience of your job?
Wow! I know I was extremely thrilled and honored to be a homecoming dedicatee a few years ago, that meant a lot and was something I will always remember.
What are your future plans in life and your career?
Well, my career is slowly coming to an end. My last day is June 28. I think I've done all the damage I can. Ha. I want to go somewhere I really really like and spend time in a mountainous area with trees, maybe near Yosemite National Park. Then the rest of the time with my husband and grandchildren.
More like this story