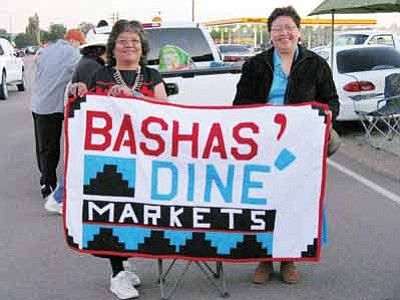 Originally Published: April 2, 2013 12:52 p.m.
Eddie Basha, founder of the Arizona-based, family-owned Bashas' Family of Stores died March 26 at the age of 75.
Navajo Nation President Ben Shelly expressed fond remembrances March 27 of an Arizona grocer and philanthropist who invested in grocery stores on the Navajo Nation.
"It is with great sadness to learn a noble soul has left us this past Tuesday afternoon," Shelly said to widow Mrs. Nadine Mathis Basha in a letter. "Eddie Basha was indeed a great friend to the Navajo Nation, who reached beyond his business comfort to invest in the unknown and all the while established a permanent presence here with a lifetime to come."
In December 2012, the Basha family gave the Navajo Nation president's office more than 2,500 turkeys for Navajo families to enjoy during the holiday season. In expressing appreciation to Basha, the president wrote, "I extend a sincere thank you for the large contribution of turkeys you made which will go to families and organizations for the holiday season."
"Eddie lived in the nature of giving," Shelly said Good Friday morning. "We shall always bear his memory as we say farewell to a man of humility who leaves his imprint in the days to come."
First generation American brothers Ike and Eddie Basha, Sr. founded The Bashas company in 1932. The family emigrated from Lebanon to New York in the late 19th century and came to Arizona in 1910.
Last year marked the 80th anniversary of Bashas' Family Stores and the company also celebrated its commitment of more than 30 years to the Navajo Nation and all Native Americans in Arizona.
According to Kristy Jozwiak, director of communication and public affairs for Bashas' Family of Stores, Eddie's enthusiasm for the Native American partnership had roots back to when his father and uncle ran the first Bashas' store in Chandler, Ariz. A majority of their customers were Gila River Pima Indians.
"[The Pima Indians] would bring their cattle, mesquite wood, and crops they'd grown to sell to his father and uncle in exchange for groceries," said Jozwiak. "As a boy he learned to sing songs in Pima, his dad and uncle both spoke the language, and he had some really great memories of dancing with them and singing in their native language. He just always had a deep love for the Native Americans and those early memories are what inspired that love in him and that desire to want to be the grocer for the reservation."
Jozwiak added that Basha saw this opportunity not only as a commercial venture, but also as a chance to help the Navajo Nation train employees and to provide jobs, create scholarships, and offer valuable food services. At each store on the reservation, at least 25 percent of the profits are dedicated to scholarships for educating Navajos and for entrepreneurial funding.
While still a Bashas' grocery store, the Bashas' Diné Markets differ in several ways to provide a more customized store for the Navajo Nation and all who live on the reservation.
"In comparison to our stores here in the Valley or in Tucson, we know that there are some differences in terms of what we carry," Jozwiak said. "Some examples are the 25-pound bags of Blue Bird flour, Folgers coffee, Spam, and some of our stores on the reservation carry velvet and yarn depending on what local suppliers stock. We sell hay in Crownpoint only, because we're not there to compete but to compliment."
This customization continues with items like bread, cake, rolls, fry bread and mutton. According to Jozwiak, Basha compared Native Americans with the Lebanese in the sense that neither culture ever wastes any food and always uses every last portion. Many Navajos referred to Basha as "shik-is," which means friend. A local medicine man even gave Basha a blessing with corn pollen at a store opening.
Four generations of Bashas have worked and continue to work for the local Arizona grocer. The tradition of quality products, friendly service and commitment to tribal communities is stronger than ever.
According to Jozwiak, Basha said two of his proudest achievements were getting money to pay for grade K-3 education in Arizona and his great relationship with the Navajo Nation.
Governor Jan Brewer praised Basha's work in Arizona.
"Eddie was Arizona through and through," she said. "Born of a pioneer Arizona family, Eddie grew to become one of our state's giants in the business, politics and community service. He loved Arizona, and it showed in his decades of devoted work on behalf of Arizona's schools and students."
Funeral services for Basha are scheduled to begin Saturday, April 6, at 10 a.m. at the Arizona State University Gammage in Tempe, Ariz. The public is urged to contribute to a list of charities in lieu of flowers and donations.