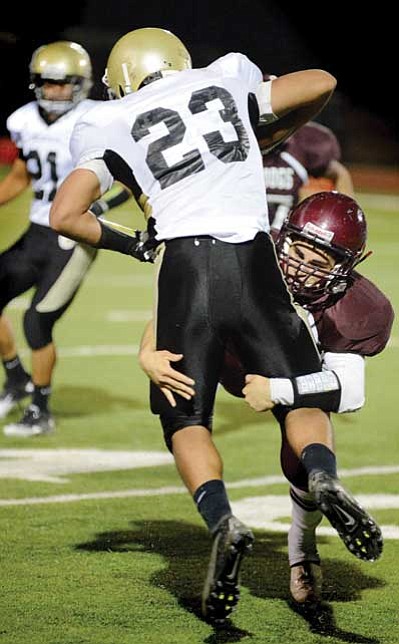 Originally Published: September 25, 2012 10:12 a.m.
WINSLOW, Ariz. - The Winslow Bulldogs easily sped by the Chinle Wildcats 53-7 in their Homecoming Game on Friday at Winslow. The win left the Bulldogs with a 4-1 record for the season and dropped Chinle to 1-4. The Bulldogs will be at home again this Friday against the tough Snowflake Lobos.
The Bulldogs drove 58 yards to score on their first possession. James Martinez hit Henry Montiel with a four yard pass for the touchdown and Lucas Jordan converted for a 7-0 lead with 9:06 to go in the quarter.
Winslow drove 57 yards on its next possession and James Martinez scored on a one yard run. The kick failed and the Bulldogs led 13-0 with 6:40 left in the period.
James Martinez scored again on an 18 yard run with just seconds left in the period to give the Bulldogs a 20-0 lead at the end of the first quarter after Jordan's conversion.
Kelly Wood ran 32 yards with 10:56 left in the second quarter and the Bulldogs led 26-0 after the conversion failed.
Henry Montiel scored on a 24 yard run with just over a minute left in the first half and Lucas Jordan's conversion gave the Bulldogs a 33-0 lead at the half.
Kelly Wood scored on a 26 yard run with just 1:40 left to play for the only score of the third quarter. Jordan's conversion left the Bulldogs with a 40-0 lead going into the final period.
James Martinez hit Henry Montiel with a 53 yard scoring pass with 11:54 left to play. Jordan's conversion gave to Bulldogs a 47-0 lead. The rest of the game was played with a running clock but ironically both teams scored in the final 10 seconds and the last two plays of the game.
Chinle scored on an eight yard pass from Dustin Grey to Rayne Brady. Jarrison Francis booted the conversion to cut Winslow's lead to 47-7 with just seconds remaining in the game.
Kelly Wood returned the kickoff 68 yards for a touchdown on the final play of the game giving the Bulldogs a 53-7 victory.
The Bulldogs will have a tough test on Friday when they host the Snowflake Lobos. The Lobos defeated St. Johns 21-14 to improve their record to 3-2 for the season. Friday's game will likely have an impact upon both teams as they strive to make the playoffs.
The rest of the season looks very difficult for the Bulldogs as they have a trip to Show Low after the Snowflake game and still have Monument Valley, Coconino and mighty Blue Ridge left to play.
More like this story