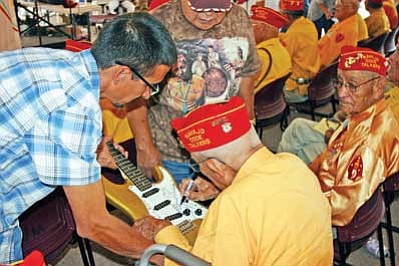 Originally Published: September 11, 2012 9:26 a.m.
WINDOW ROCK, Ariz. - Custom guitar designer Shonie De La Rosa traveled to Window Rock on Aug. 14 for National Code Talkers Day to get his self-described "Navajo Code Talker Guitar" personally signed by 21 living Navajo Code Talkers.
De La Rosa said his guitar, built in 2010 in his Navatone Custom Shop, was inspired by his friend Ritchie Anderson's own signed Navajo Code Talker guitar, a 1972 Fender Telecaster.
"The guitar I have is modeled after their [Code Talkers] uniforms, the black, the gold and the turquoise," said De La Rosa. "And then it sits in a case that has plush red velvet in it."
De La Rosa also recently took many of his guitars, including the Code Talker guitar, to the NAMM Show (National Association of Music Merchants) in Anaheim, the largest gathering of musical instrument manufacturers in the world. De La Rosa participated in the Native American Pavilion and is one of only two Native American guitar builders to partake in this series in North America.
All of De La Rosa's guitars are made right on the Navajo Nation in his workshop located in Kayenta, Ariz.
"I made the Code Talker guitar and finished it right before the NAMM Show, so I could take the guitar out there to promote it," said De La Rosa. "I brought Samuel Holiday, a Code Talker from Kayenta, and his family out to Los Angeles and we did a signing ceremony over there."
According to De La Rosa, the goal was to get the guitar signed by as many Code Talkers as possible. He also mentioned he eventually would like to make more but it can take some time due to several reasons.
"The guitars can be real expensive to make because they're all hand-made," De La Rosa said. "The only thing I don't make are the guitar necks, the guitar bodies are all cut out and carved, and I finish those. The electronics are hand-wired and the pickups are hand-made pickups from a friend of mine in Chicago who is well known for his guitar pickups for blues players. I don't skimp on any of the parts everything is top of the line, the best that money can get, for all my guitars."
Levi Platero from the music group the Plateros actually currently uses one of De La Rosa's guitars, a Navatone from his custom guitar shop. De La Rosa added that the Code Talker guitar has only been played once, at a Plateros show by Platero himself, and is most likely not going to be played again.
"It's a museum piece as I like to call it," he said. "To me, this guitar is another piece of Navajo history now. The only other person who has a piece like it would be Ritchie [Anderson] and his '72 Telecaster. But this guitar was just my way of showing my respect and my gratitude towards the Navajo Code Talkers for all that they sacrificed for our country."
For more information or to view, purchase, or have a custom guitar built visit navatone.com, call De La Rosa at (928) 429-0671, or email De La Rosa at sheepheadfilms@yahoo.com or navatone@yahoo.com. For additional information on NAMM shows visit www.namm.org.