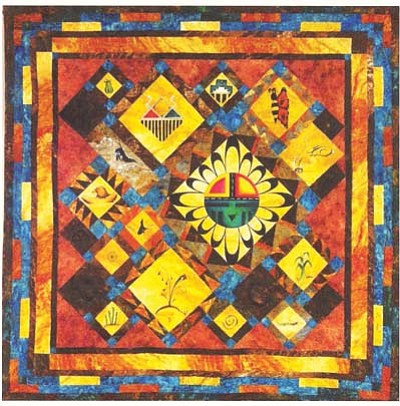 Originally Published: October 30, 2012 1:19 p.m.
HOTEVILLA, Ariz. - Fabric art dealers, private quilt collectors, artists and community members now have the opportunity to buy a rare art fabric piece made completely by Hopi fabric artists. The hand-stitched fabric piece with trapunto quilting features will be raffled next summer by the Hopitutuqaiki Art School.
The school hopes to showcase some of its recent 2012 summer artwork as well as raise money for a permanent school site for the renowned, state recognized Hopi art school.
The Hopitutuqaiki Art School 61x61 inch "Opportunity Quilt" was designed and created by Hopi women students this past summer under the supervision of master quilter Linda Visnaw. Professional quilters call quilts used for fundraisers "Opportunity Quilts."
The women quilters who executed the final quilt piece were Ella Humetewa, Donna Humetewa, Eleanor Tenakhongva, Lorna Quamahongnewa and Mary Duwyenie.
The "Opportunity Quilt" will "travel" for a little more than a year. Right now, the quilt is being featured at the International Quilting Show in Houston, Texas.
It's next stop will be at Odeggards' Fabric in Flagstaff and then it will go to the Native American Art Show atSharlot Hall Museum in Prescott. It will also be shown at the annual Hopi Show at the Museum of Northern Arizona in Flagstaff next summer.
Raffle tickets will be available for purchase at each site that the quilt is shown or at the school website at www.hopischool.net. Tickets are available locally from Hopi art school board members as well. They are Rick Honyouti, Ramson Lomatewama, Donna Humetewa, Mary Duwynenie, Bob Rhodes and Angel Nahkalayah.
You may also call the Hopitutuqaiki school at (928) 734-2433 for tickets.
The Hopitutuqaiki Art School has been in operation for eight years. This year's attendance is up 18 percent over last year.
The school is unique in that it features both contemporary art forms as well as Hopi traditional art forms, ranging from Hopi traditional basket-making and traditional weaving to contemporary air-brushing and glass-blowing. The school runs an ART for Kids program, and silk-screening, fabric design, and natural pigment painting classes as well as the state-award winning Hopi Pre-school during the summer months each year from May to August.
To view the year end school report complete with success statistics and photos visit www.hopischool.net.