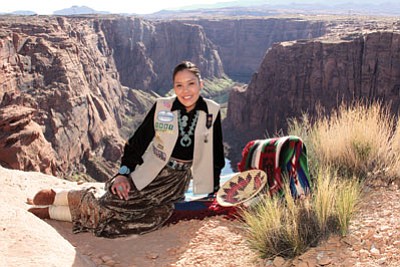 Originally Published: October 24, 2012 11:18 a.m.
PAGE, Ariz. - Little could Diana Greymountain know that a journey she began in kindergarten 11 years ago would lead to the White House to meet the president of the United States.
The 16-year-old Page High School junior was invited to Washington, D.C., last May because of her Girl Scout Gold Award project and a video that captures the story of a Navajo girl who has grown through scouting to embrace friendships, her culture, her school and her community.
Greymountain produced the video with grant money she received from the Navajo Youth Achievement Fund, a program of the Page/Lake Powell Community Foundation.
"You have made such a difference in my life that I never would have dreamed of, and can never imagine happening again," Greymountain said to an audience at an Achievement Fund banquet at the PERA Club last month that included Salt River Project (SRP) Board President David Rousseau, SRP Associate General Manager Mike Hummel and other top SRP officials.
She thanked the foundation for making it possible to produce the video of her quest to obtain her Gold Award, the highest achievement in Girl Scouts.
On Oct. 4, Greymountain learned she met all requirements for the award during her final interview with the Gold Award board. She is now an official Gold Award Girl Scout, among only 5.4 percent of Girl Scouts to achieve the award.
Being a Gold Award recipient raises her rank in the Girl Scouts to Ambassador Scout.
She will be honored in Phoenix on March 23 along with all the other Arizona Girl Scout Gold award winners.
"With the generous help of the Navajo Youth Achievement Fund, we were able to tell the story of my project and my Girl Scouting life," Greymountain said.
Navajo Generating Station Plant Manager Robert Talbot, a Page/Lake Powell Community Foundation Board member, said the achievement fund supports several Navajo students each year who participate in math, science, music, dance or accelerated academy summer programs. It raises money through its annual NGS Shoot Out Golf Classic tournament and banquet.
"This lady has a remarkable story to tell," he said. "The Girl Scouts program encourages values in young women to become strong, respectful, courageous and make a difference within their communities. Some of these young women inspire others through their accomplishments and awards."
Talbot said Greymountain is the first Navajo girl and one of the first Native Americans in the Arizona Cactus-Pine Council to undertake the Gold Award.
As she began her project, Greymountain said Girl Scouts officials in Phoenix thought it would be wonderful if a Navajo girl could achieve the Gold Award.
"They wanted to know more about me, and wanted to tell other people about me, too," she said. "They asked me to make a short video about myself, so I did."
Greymountain, who is Zuni/Edgewater and born for Bitter Water, used her scholarship to pay Cherylee Francis of CF Productions to produce a video that portrays her project to refurbish the Hanging Garden Trail.
The Hanging Garden is a luxuriant fern-covered wall hidden in the Jurassic Navajo Sandstone across from the Carl Hayden Visitor Center at Glen Canyon Dam. From the road to the Chains area, it takes about 45 minutes to hike there.
"The first time me and my mom and my brother walked the trail we got lost and we ended up down by the lake," Greymountain said. "We didn't really like that because you walk down and you're hurting the vegetation and everything on the ground. So if there was a trail then you wouldn't hurt the environment around you."
A Gold Award project requires a Girl Scout to identify an issue or community problem, investigate it thoroughly, get help by building a team, create a plan to resolve the problem, present the plan and gather feedback, execute it, and educate and inspire others through the project. Projects often take one to two years to complete.
Last April, Greymountain and volunteers she enlisted arranged river rocks donated by the National Park Service to create an attractive foot trail to Hanging Garden. She also designed a trailhead sign that was built and installed by the National Park Service.
She then wrote a trail guide for people to take along with them to help them understand the plants and animals of the trail.
Her video documentary made its way to the annual Girl Scouts Convention in New York City.
"One day my mom picked me up from school, something she never does," Greymountain said. "She had something very important to tell me. Anna-Maria Chávez, the CEO of Girl Scouts of America, had seen my video. Would I like to be her guest and come to the White House and meet the president with her? I was so surprised and happy that I cried for two days."
Getting to the May 29 ceremony brought a number of "firsts." Greymountain took her first airplane ride, first taxi ride, and made her first visit to a major eastern city to arrive at the White House to meet President Obama.
She was one of only five Girl Scouts invited to attend the posthumous presentation of the Presidential Medal of Freedom, the country's highest civilian honor, to Girl Scouts of the USA founder Juliette Gordon Low, who died in 1927 and who founded the organization a century ago.
Traveling with Diana was her mother, Geraldine Calamity, her brother Aaron, and her Gold Award sponsor, Betsy Scroggs, an interpretive specialist at the Glen Canyon National Recreation Area.
"I'm from Page, Arizona, and have followed in Mrs. Low's path by becoming a Girl Scout," Greymountain wrote in a Huffington Post blog message. "Tomorrow, her family will receive the Medal of Freedom - the highest honor a civilian can get - on Mrs. Low's behalf and I'll be there representing Girl Scouts."
Greymountain's journey to the White House and her Gold Award began in kindergarten as a Daisy Scout. From there she became a Brownie, Junior Scout, a Cadette, Senior Scout and is now an Ambassador Scout.
"I love it because it's so much fun," she said. "You interact with girls, and you learn new skills, you learn how to camp, you learn leadership skills, you learn all these qualities and these are qualities you can learn in your future."
In addition to scouting, Greymountain is co-captain of the Page High School Cheerleading Squad, a member of the student council, student body activities coordinator, and was recently academic student of the week.
To see Diana's video, visit www.youtube.com/watch?v=O21u6zB1EwQ.