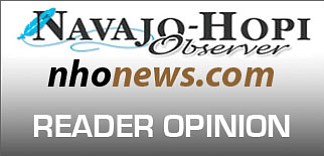 Originally Published: October 24, 2012 11:46 a.m.
To the editor:
I am a Black Mesa resident concerned that Navajo President Ben Shelly, Attorney General Harrison Tsosie and the Salt River Project are talking about renewing the lease for the coal-burning Navajo Generating Station (NGS) without including the members of our community.
The people of Black Mesa need to have their concerns about coal pollution resolved, given the collective trauma decades of mining and burning coal have caused in our area.
Coal burning at Navajo Generating Station sickens kids with asthma. The Clean Air Task Force estimates that coal pollution from NGS causes more than $126 million in medical costs every year from asthma, bronchitis, heart attacks, hospital admissions, and premature deaths.
NGS is also Arizona's single biggest emitter of greenhouse gases that contribute to droughts, wildfires, and record temperatures that have affected our communities in recent years. In addition, NGS consumes more than 30,000 acre-feet of water every year that could go for other uses.
To resolve these problems and ensure the best future for Black Mesa, Salt River Project and the other owners of NGS must commit to reducing coal and transition to clean energy.
By moving NGS off coal to solar, NGS would continue to provide jobs and power.
Salt River Project and Peabody will everyone how much money they give for scholarships and royalties. However, currently the benefits of the mine and plant go to the central government, and not to the people in our community who suffer the most direct consequences of mining and burning coal. Any talk of renewing the lease for NGS must include a discussion with the immediate communities of Black Mesa ensuring that benefits go directly to the people.
Any lease that continues NGS needs to ensure justice for the Dine' People, protect our health, conserve our water, stop contributing to global warming, and ensure that local people share the benefits from the plant. It is time for Salt River Project, Attorney General Tsosie, Peabody, and all of the other parties to let our community in on the discussion.
Marie Gladue
Big Mountain Resident